Doctor Strange in The Multiverse o Madness - The Loop
Play Sound
"Oh, and Mistyfoot? Never trust the shadows. My warriors wear the night like second pelts. If you wrong ShadowClan, you will never be safe in the dark."
— Blackstar to Mistyfoot in Battles of the Clans, page 37

Blackstar is a tall,[18] huge[19] white tom with jet-black paws, one of which has six toes.[20] He has a sleek pelt,[21] a broad chest,[18] black-rimmed ears, and amber eyes.[22]
Blackstar was a ShadowClan leader in the forest and lake territories. He was born to Blizzardwing and Hollyflower as Blackkit along with his littermates, Flintkit and Fernkit; however, his father's identity was kept a secret because Blizzardwing was already mates with Featherstorm. As an apprentice, Blackpaw learned the truth about his father, but never told his littermates. As a young warrior, Blackfoot mentored his half-sister, Dawncloud, and later became Brokenstar's deputy; however, he was exiled along with his treacherous leader, becoming a rogue until Tigerstar seized control of ShadowClan. Blackfoot returned to his status as deputy, and after Tigerstar's sudden death, took over leadership of ShadowClan. At his leadership ceremony, Blackfoot understood the horror he partook in, originally believing to be a loyal deputy. StarClan forgave him, and Blackfoot vowed to do better than his predecessors, earning his leader name of Blackstar. While Blackstar kept his word and led ShadowClan through moons of peace, he retained his Clan's history of fierceness, cunning, and stealth. He led his Clan through the Great Journey, but a rogue named Sol influenced the ShadowClan leader to abandon StarClan until StarClan themselves appeared to restore his faith. During the Great Storm, Blackstar lost his final life, passing his leadership onto Rowanclaw.
History
Looking for a longer overview? Find one here!
"Then I'll see you at the next Gathering. And Blackfoot, you would do well to learn from the mistakes of your predecessors. I saw what you did to Stonefur at the Bonehill."
―Firestar warning Blackfoot
When Tigerstar becomes leader of ShadowClan, Blackfoot becomes his deputy. After Darkstripe fails to kill Stonefur, the RiverClan deputy, Tigerstar orders Blackfoot to finish the job. Blackfoot reluctantly agrees to unite ShadowClan with the other Clans to fight BloodClan after Tigerstar's death, and after the battle, Blackfoot plans to travel to the Moonstone to receive his new name and nine lives.
"Firestar, you're panicking over nothing. Twolegs are mad. Even the smallest kit knows that. True, they knocked down a few trees, but now they've gone away again. Whatever was going on, it's over."
―Blackstar to Firestar about the Twoleg interference
"They spoke to us. You were right, Littlecloud. We can't ignore the spirits of our warrior ancestors. Now when they're still watching over us [...] I can't believe I let myself listen to that mange-ridden trickster. He told me StarClan didn't care what happened to us! But they brought us here, made the trees fall so that we had to hear them. I'll make sure no ShadowClan cat is led astray by Sol again."
―Blackstar restoring his faith in StarClan
"I'm still leader of this Clan. And you have betrayed us all [...] I killed one traitor, and now I'm ready to kill another."
―Blackstar to Redwillow
This section summarizes Blackstar's significant Super Editions appearances. If you're looking for a full list, find one here!
"Brokenstar, your choice honors me. I'll do my best to serve you and our Clan well."
―Blackfoot after being named Brokenstar's deputy
"My Clan will not stay to hear our dead warriors scorned by the other Clan! You all owe them a debt, just as we do."
―Blackstar at a Gathering
This section summarizes Blackstar's significant Novellas appearances. If you're looking for a full list, find one here!
"Those ThunderClan cats fought more fiercely than I expected. Especially that so-called kittypet, Fireheart. He may have been born in Twolegplace, but he's sure learned how to fight like a warrior."
―Blackfoot to Tigerclaw
"Can it go on like this? You say it's my choice to continue, but I feel like this is wrong. Each memory leaves me more shaken than the last. Am I really fit to lead ShadowClan?"
―Blackfoot after his seventh life during his leadership ceremony
Character pixels
Main images
Alternate images
Official art
Please do not edit this gallery
Killed victims
This list shows the victims Blackstar has killed:
Ceremonies
Blackfoot's deputy ceremony
Brokenstar:
Meanwhile, it is time for me to choose a deputy. I say these words before the spirits of my ancestors, that they may hear and approve my choice. Blackfoot will be the next deputy of ShadowClan.
Reference: Yellowfang's Secret, page 416
Blackstar's leader ceremony
Blackfoot:
Sagewhisker.
Sagewhisker:
Blackfoot, I know that you are uncertain.
Blackfoot:
I—I am. But I am loyal. I would put my Clan before anything else.
Sagewhisker:
ShadowClan has suffered. But so have all the Clans, and part of that is ShadowClan's fault. The next leader of ShadowClan must be strong and honorable, or ShadowClan will fall into oblivion. If ShadowClan falls, the other Clans will fall too, even StarClan. There must be a balance in the forest. Do you really think you're up to the task? Can you be the strong and honorable leader ShadowClan needs?
Blackfoot:
I will do my best. Like I said, I would do anything for ShadowClan. Everything I have done has been for ShadowClan.
Sagewhisker:
Very well. The next few moments will be a test of sorts, then. Each cat will give you a gift. The gift may come with a memory, and not all these memories will be welcome. [...] If at any point it becomes too much, you can tell us to stop. You can leave, and live as you always have, and there will be a new leader for ShadowClan. Do you understand?
Blackfoot:
I understand.
Blizzardwing:
[...] I'm so sorry that I hurt you. But thank you for keeping our secret. Do you want this life? [...] With this life, I give you acceptance. Accept your past so that you may leave it behind as you and your Clan move forward.
Raggedstar:
[...] I can imagine what you've seen. Putting our faith in the wrong cat has been a challenge for both of us. Are you sure you want this life? [...] Then with this life, I give you trust. Have faith in your Clanmates as you do yourself.
Blackfoot:
We both trusted Brokentail. But it was a mistake, wasn't it? And that was the beginning of ShadowClan falling apart.
Raggedstar:
We were wrong to put our faith in him. He killed me in the end. And following him changed you. But what's done is done. If ShadowClan is going to survive, you'll have to trust your warriors. And they'll have to trust you.
Blackfoot:
[...] Should I have tried to convince Brokenstar not to train such young kits? I had to listen to my leader. That's what makes us different from rogues.
Badgerfang:
You can stop anytime, you know. I don't have to give you this life. [...] With this life, I give you perspective. Always seek as many points of view as you can, while knowing that a leader must in the end think for himself.
Blackfoot:
[...] We did need the territory. There were more of us than there were of the WindClan cats, and we didn't have enough prey. You don't understand. We had to survive.
Gray Wing:
I know it can be hard to relive the past. As we've said all along, this is your choice. Do you want the life I offer? [...] With this life, I give you unity. Do all that you can to make sure every Clan is strong. Because if one Clan falls, all the Clans will be lost.
Rosetail:
[...] With this life, I give you compassion. Do your best to understand the hopes and dreams of other cats in the forest, even if they're not in your Clan.
Bluestar:
[...] Do you want this life? I need you to say it.
Blackfoot:
I want this life.
Bluestar:
With this life, I give you judgment. Use it when making difficult decisions. Consider all possibilities, and consequences, of the choices you make.
Stonefur:
[...] With this life, I give you integrity. Use your judgment, to make sure you take yourself and your Clan down the right paths in the future.
Blackfoot:
Can it go on like this? You say it's my choice to continue, but I feel like this is wrong. Am I really fit to lead ShadowClan?
Nightstar:
You're honest. Every leader has made choices they regret. It isn't necessary for a leader to be perfect. But it is important that you can learn from the past, and change. Don't lose the ability to question yourself. A leader needs to be the one who makes sure he's doing the right thing. No other cat will do it for him.
Blackfoot:
[...] Tigerstar didn't care about the sick ShadowClan cats, did he? He just wanted you to make him the next deputy, so that they would accept him as their leader when you died.
Nightstar:
He fooled me, too. But what matters now is that you cared about the ShadowClan cats. You weren't looking for revenge, or some advantage over ShadowClan; you only wanted to help your Clanmates. [...] With this life, I grant you loyalty. To the warrior code, to all the cats in the forest, and especially to ShadowClan.
Shadowstar:
Do you know who I am? I'm Tall Shadow. You know me as Shadowstar. I was the first leader of ShadowClan.
Blackfoot:
You're going to give me a life? You want me to lead ShadowClan?
Shadowstar:
I hope you're up to the job.
Blackfoot:
I hope so, too. I'll try. Surely, we're due for a few peaceful moons.
Shadowstar:
Try not to be too naïve. It won't be easy. Don't think everything will be fine from now on. The Clans might have won the battle against Scourge, and the territories might be safe for a little while, but the Clans' troubles are like the seasons. They always come around again.
Blackfoot:
[...] Is that the future? Are those things that are going to happen? Is this a warning?
Shadowstar:
There are many paths to the future. Even StarClan doesn't see everything that's going to happen. They're only dreams of what might happen. The choices you make will matter.
Blackfoot:
I'll do my best to make the right choice.
Shadowstar:
That's all we can ask of you. With this life, I give you the quality that your Clan will need above all others in the long days to come. Leadership.
I hail you by your new name, Blackstar. Your old life is no more. You have gained the nine lives of a leader, and StarClan grants you the guardianship of ShadowClan. Defend it well; care for the young and old; honor our ancestors and the traditions of the warrior code. Live each life with pride and dignity.
Blackstar:
I will.
StarClan:
Blackstar! Blackstar!
Reference: Blackfoot's Reckoning, chapters 1-10
Leader info
Personality and traits
As a young warrior, Blackfoot was a bully, critical,[34] but popular among his Clanmates.[35] Yellowfang described him as strong, but not a clever fighter,[36] though he would battle fiercely and despite injury.[37] As deputy under Brokenstar and Tigerstar, Blackfoot was obedient to his authority, even when obeying meant breaking the warrior code.[34] However, he never admitted to regretting what he had done.[38] Upon becoming a leader, Blackstar was hesitant to ally with the other Clans[39] and was generally hostile and distrustful. He was prideful,[40] rarely admitting or acknowledging troubles, such as when Twolegs began destroying the forest territories.[41]
Despite his cold exterior, Blackstar cared deeply for ShadowClan. When he was living as a rogue in exile, Blackfoot worried deeply for his Clanmates, who were starving and riddled with Carrionplace sickness.[42]
Relationships
"I was loyal to Brokenstar because he was the leader of my Clan, just as every ShadowClan warrior should have been. I am still a ShadowClan cat, whatever happens."
―Blackfoot defending himself to Tigerclaw
Blackfoot: "Did you think we would let you fight alone?"

Tigerclaw: "No, my friend. I knew you would come."

Tigerclaw's Fury, page chapter 6
"What's this? Does the great Firestar think he can go where he likes in the forest?"
―Blackstar when Firestar visits the ShadowClan camp
"She died fighting. She died bravely. We ask no more than that of our warriors."
―Blackstar after Russetfur is killed
Blackstar: "You told a warrior from another Clan about our Clan's problems?"

Tawnypelt: "I told Squirrelflight. She's a friend."



Twilight, page 186
"Sol must be gone from Clan territory by the next Gathering. Or we will unite our three Clans to get rid of him ourselves."
―Blackstar when ThunderClan is revealed to be harboring Sol
Kin
Members
Mother:
Hollyflower:[57] Deceased, verified StarClan member
Father:
Blizzardwing:[7] Deceased, verified StarClan member
Brother:
Sister:
Half-brothers:
Half-sister:
Tree
    = Male
    = Female
    = Gender Unknown
Appearances
Merchandise
Toys and Plush
Blackstar & Jayfeather - Mini Collector Figures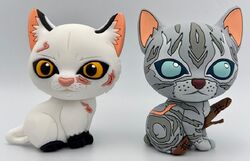 Series 2
Though radically different in many ways, these toms both served their Clans in moments of dire need. Although Blackstar did the bidding of ShadowClan's cruelest leaders, when he came to power, he restored ShadowClan's honor and nobility. And when Jayfeather learned of the prophecy that promised a power greater than StarClan, he set off to save the Clans from darkness—with the help of a certain ancient stick.
Also included in a three-pack bundle with the rest of Series 2: Cinderpelt, Brightheart, Ravenpaw, and Sandstorm.
Approximate individual price is $12.99 USD, and the three-pack bundle is $38.97 USD.
Trivia
Did you know Blackstar has six toes on one paw? For more trivia about Blackstar, click here!
Quotes
Blackfoot: "Firestar. So we won the battle after all."

Firestar: "Yes we did. What will you do now, Blackfoot?"



The Darkest Hour, pages 311-312
"Hope is easy, but it catches no prey. If you ask me, we've seen the last of them."
―Blackstar
Blackstar: "What's this? Does the great Firestar think he can go where he likes in the forest?"

Firestar: "I have come to talk to you about what the Twolegs are doing. We have to decide what we're going to do if it carries on."



Moonrise, pages 44-45
See more
"We are still bound by our alliance during the Great Battle! This is a problem faced by all the Clans, and therefore we should deal with it together. There cannot be any inequity between us."
―Blackstar about the alliance during the Great Battle
Blackstar: "These cats are still with us, watching the Clanmates they died to save! We need to honor their memory!"

Mistystar: "But Blackstar, life moves on, just like the seasons. We don't list every piece of prey we've eaten in the last moon, or remember every fallen leaf."



Bramblestar's Storm, pages 54-55
External links
Notes and references
↑ 1.0 1.1 Revealed in The Apprentice's Quest, page 5
↑ 2.0 2.1 2.2 Revealed in Into the Wild, page 141
↑ 3.0 3.1 3.2 Revealed in Fire and Ice, allegiances
↑ Revealed in The Darkest Hour, page 161
↑ Revealed in The Darkest Hour, page 210
↑ 6.0 6.1 Revealed in Bramblestar's Storm, page 190
↑ Revealed in Yellowfang's Secret, page 304
↑ Revealed in Yellowfang's Secret, page 365
↑ Revealed in A Dangerous Path, allegiances
↑ 11.0 11.1 11.2 Revealed in Firestar's Quest, allegiances
↑ Revealed in The Darkest Hour, page 233
↑ Revealed in Long Shadows, page 84
↑ Revealed in Leopardstar's Honor, page 523
↑ Revealed in Leopardstar's Honor, page 534
↑ Revealed in Yellowfang's Secret, page 466
↑ Revealed in A Dangerous Path, page 313
↑ 18.0 18.1 Revealed in Tigerclaw's Fury, page 36
↑ Revealed in the Warriors App
↑ Revealed in Night Whispers, page 62
↑ Revealed on the cover of Blackfoot's Reckoning
↑ Revealed in Into the Wild, page 116
↑ Revealed in The Darkest Hour, page 172
↑ Revealed in The Last Hope, pages 280-281
↑ 26.0 26.1 Revealed in Blackfoot's Reckoning, chapter 3
↑ 27.0 27.1 Revealed in Blackfoot's Reckoning, chapter 5
↑ 29.0 29.1 Revealed in Blackfoot's Reckoning,

chapter 8

↑ 30.0 30.1 Revealed in Blackfoot's Reckoning,

chapter 9

↑ 31.0 31.1 31.2 31.3 Revealed in Blackfoot's Reckoning,

chapter 10

↑ Revealed in The Last Hope, page 273
↑ Revealed in Bramblestar's Storm, page 160
↑ 34.0 34.1 34.2 Revealed in The Darkest Hour, chapter 14
↑ Revealed in Yellowfang's Secret, chapter 36
↑ Revealed in Into the Wild, chapter 18
↑ Revealed in The Darkest Hour, chapter 28
↑ 38.0 38.1 Revealed in The Darkest Hour, chapter 30
↑ Revealed in The Darkest Hour, chapter 26
↑ Revealed in Dawn, chapter 15
↑ 42.0 42.1 Revealed in Tigerclaw's Fury, chapter 3
↑ Revealed in Yellowfang's Secret,

chapter 29

↑ Revealed in Yellowfang's Secret,

chapter 30

↑ Revealed in Into the Wild, chapter 24
↑ Revealed in Tigerclaw's Fury, chapter 5
↑ Revealed in Tigerclaw's Fury, chapter 2
↑ 49.0 49.1 Revealed in Long Shadows, chapter 6
↑ Revealed in River of Fire, page prologue
↑ Revealed in Twilight, chapter 12
↑ 53.0 53.1 Revealed in Long Shadows, chapter 10
↑ Revealed in Long Shadows, chapter 23
↑ Revealed in Long Shadows, chapter 9
↑ Revealed in Sunrise, chapter 18
↑ 57.0 57.1 57.2 Revealed in Yellowfang's Secret, page 308
↑ 58.0 58.1 58.2 Revealed in Yellowfang's Secret, page 406
↑ Revealed in Yellowfang's Secret, page 455
↑ 60.0 60.1 Revealed on the Warriors website family tree (screenshot)
↑ Revealed in Into the Wild, page 255