"No matter what, there is one thing SkyClan will always do. We will protect one another."
— Leafstar reassuring her Clanmates in Veil of Shadows, page 47

Leafstar is a mottled[13] pale cream-and-brown tabby she-cat with amber eyes,[14] cream patches,[15] and a long, brown tail.[16] She has a scar on her chest between her forelegs.[17]
Leafstar is the current leader of SkyClan in the gorge and in the lake territories. She was originally a rogue named Leaf who joined the newly revived Clan in gorge under Firestar's guidance. She was given her warrior name, Leafdapple, and an apprentice, Sparrowpaw. After defeating the rats, she became SkyClan's new leader with some reluctance, receiving the new name Leafstar, and made Sharpclaw her deputy. Though she was originally discourged from taking a mate, Leafstar decided to forge her own rules by becoming mates with the daylight warrior named Billystorm. With support from Billystorm, Sharpclaw, and Echosong, Leafstar raised three kits named Firekit, Stormkit, and Harrykit. However, she and her kits were captured by a Twoleg and Leafstar was dubbed Miss Mama Cat. Leafstar also met the Twoleg's kittypet named Harry, who joined SkyClan after they were rescued, but Leafstar later exiled him after his true intentions were discovered. Darktail and his group drove SkyClan out of their home, and despite the loss of Billystorm, Firefern, and Stormheart, Leafstar remained resilient, and she led her Clan to the lake territories. After some conflict with ShadowClan, SkyClan settled with the other four Clans. Leafstar was doubtful at first about Bramblestar's impostor, but eventually aligned herself with Tigerstar to defeat him.
History
Looking for a longer overview? Find one here!
"Can't you see that it is? Fighting is the way things are done around here, Tree. It's not just ShadowClan—none of the lake Clans think like us. They train their warriors to fight, not to talk. If we want to keep our territory, we have to be like them. If we don't fight for what we believe in, the other Clans won't ever respect us, and it won't just be ShadowClan pushing us around, don't you see?"
―Leafstar to Tree about the ShadowClan-SkyClan conflict
Rowanclaw disbands ShadowClan, and his remaining cats join SkyClan, causing several heated arguments between the two alliances. Leafstar refuses to let Sleekwhisker and Yarrowleaf, who is expecting kits, to join SkyClan due to their heinous crimes with Darktail, causing several ShadowClan cats to passionately disagree. She grows frustrated with managing two Clans when some of them continuously disobey her orders. After several failed attempts to make Tree do anything productive, she names him the first mediator designed to settle arguments. With the return of Tigerstar, ShadowClan is reformed and reclaims their territory. They launch an attack on SkyClan, hoping to seize their old territory, and Juniperclaw poisons Sparrowpelt. Frustrated by the other Clans not helping her, Leafstar leads her Clan away from the lake until Twigbranch and other warriors bring them back. The other Clans agree to give up a portion of their territory to make room for SkyClan.
"I've tried to stay out of this conflict, but I won't hesitate anymore. We may have had our own troubles with Tigerstar in the past, but he was right about this false ThunderClan leader and the Clans' current problems. Now I have to pick a side, and it's time to stop Bramblestar!"
―Leafstar to SkyClan
This section summarizes Leafstar's significant Super Editions appearances. If you're looking for a full list, find one here!
"Yet it was Leafdapple who had shown greater sensitivity to everything that the warrior code meant. She had rallied the Clan in the battle with the rats, and she had understood why Hutch had wanted to leave the Clan to be a kittypet again."
―Firestar's thoughts when StarClan chooses Leafdapple as leader
"Leafstar flicked her tail in frustration. Why did it always feel as if she was leading her Clan in the dark? All the stars in the sky didn't seem to give enough light to see where the future lay."
―Leafstar doubting her decisions

In SkyClan's Destiny, many moons later, Leafstar has a dream of coming dangers for SkyClan. In order to increase their members, Leafstar allows kittypets from the Twolegplace to join as daylight-warriors, providing for the Clan during the day and returning to their Twolegs at night. However, the system is still new and causes many arguments between the Clan. Among many of Leafstar's problems is infighting between the warriors, Frecklepaw wanting to become a medicine cat, Sharpclaw undermining his leader, and Leafstar's feelings for the daylight-warrior Billystorm. Rogues who met Firestar on his initial journey arrive in the gorge, and introduce themselves as Stick, Cora, Shorty, and Coal. They participate in training and providing for the Clan until Stick reveals they came for SkyClan's help with Dodge and his group back in their Twolegplace. Leafstar agrees to help them, and she loses a life fighting Misha. Leafstar realizes her Clan is different from the others, and only she could decide her Clan's future and her own.
"We are and always will be a Clan. I will never lose faith that eventually we will find the other Clans and the home where we are meant to live."
―Leafstar to her Clanmates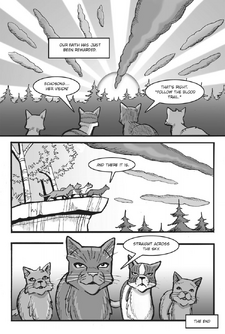 In Hawkwing's Journey, Leafstar shares with the Clan Echosong's vision about finding the spark that remains, which they conclude they must find the other Clans. When a new rogue named Darktail arrives with knowledge about the other Clans, Leafstar invites him to stay. She uses this information to send a patrol to look for the Clans. However, her mate, Billystorm, is killed by badgers. Leafstar is heartbroken, and when Hawkwing accuses Darktail of tricking them, Leafstar punishes Hawkwing for suggesting that. Darktail and his rogues attack SkyClan at night, forcing the Clan to flee the camp. Several cats are killed and others go missing; Stormheart, her daughter, is killed in the ensuing battle, while Sharpclaw is killed by Darktail, and Leafstar appoints Waspwhisker as his replacement. She insists their only option is to leave their territory and find ThunderClan. On their journey, several of their Clanmates go missing or choose to stay behind. Leafstar continues to lead her fractured Clan, and they settle camp for Plumwillow to give birth. She appoints Hawkwing deputy after Waspwhisker is abducted by Twolegs. Echosong leaves to find the spark that remains, leaving the Clan without a medicine cat when sickness claims the life of Firefern, Leafstar's daughter. Leafstar is delighted when Echosong and Leafstar's only surviving kit, Harrybrook, returns. The Clan continues on their journey to find ThunderClan, now following the blood trail.
"How can they leave when you killed the mother of their newborn kits? Some cat must nurse them! We owe them that much after murdering their mother."
―Leafstar scolding the other Clan leaders after Moonlight's death
This section summarizes Leafstar's significant Novellas appearances. If you're looking for a full list, find one here!
In Ravenpaw's Farewell, Leafstar meets Ravenpaw and Barley, old friends of Firestar. Leafstar is hesitant to allow Bella and Riley to join the Clan, since SkyClan is now well off with plenty of warriors. Leafstar also learns how the other Clans left their home in the forest. SkyClan is having trouble with vicious kittypets attacking them, and Ravenpaw offers some solutions. They defeat the kittypets with Ravenpaw's help, and Leafstar allows Bella and Riley to train as apprentices. As Ravenpaw dies, Leafstar gives him a warrior's farewell.
"It's not right that she-cat leaders should have all the responsibilities of leading a Clan...and all the responsibilities of raising kits! But...right or not...I'm going to do it. I'm going to to both jobs. I'm going to do them well. And I'd like to see a tom try to keep up with me."
―Leafstar's thoughts
Harry, who is actually named Sol, attempts to participate in Clan life. Sharpclaw is suspicious of Sol and his skills, and Leafstar discovers Sol stealing prey from foxes. Sol reveals he wants to join SkyClan because of the stories his mother told him as a kit, and Leafstar attempts to train him but is unimpressed by his lack of talent. A flood sweeps through the gorge, destroying the camp and drowning Lichenfur. Leafstar's kits worry of another flood, and Leafstar learns that Billystorm plans to take them to his Twolegs. She banishes him, and later Leafstar's kits go missing. Shrewtooth discovers that Sol took the kits, and Sol confesses he did so he could claim he found them and become a warrior. Enraged, Leafstar exiles Sol from SkyClan, and Billystorm joins the Clan as a full warrior.
Character pixels
Main images
Alternate images
Official art
Please do not edit this gallery
Ceremonies
Leafdapple's warrior ceremony
Firestar:
I, Firestar, leader of ThunderClan and mentor to SkyClan, call upon my warrior ancestors to look down upon these cats. They have a true desire to learn the ways of your noble code, and I commend them to you as warriors in their turn.
Leaf, do you promise to uphold the warrior code and to protect and defend this Clan, even at the cost of your life?
Sandstorm:
Say, 'I do.'
Leaf:
I do.
Firestar:
Then by the powers of StarClan I give you your warrior name. Leaf, from this moment you will be known as Leafdapple. StarClan trusts you will give all your intelligence and loyalty to the new Clan.
Sandstorm:
Lick his shoulder.
Now we welcome her to the Clan by calling out her name.
Leafdapple! Leafdapple!
Everyone:
Leafdapple!
Reference: Firestar's Quest, page 334
Leafstar's leader ceremony
| | |
| --- | --- |
| Cloudstar: | Do you believe in what is about to happen? |
| Leafdapple: | I...I think so. At least, Firestar says you're going to give me nine lives, and I believe him. |
| Cloudstar: | That will have to be enough. Come, and I will give you your first life. I give you a life for endurance. Use it well to strengthen your Clan in times of trouble. |
| Skywatcher: | I give you a life for hope, use it well to guide your Clan through the darkest days. |
| Leafdapple's mother: | With this life I give you love. Use it well for all the cats who look to you for protection. |
| Spottedleaf: | I give you a life for healing wounds caused by words and rivalry. Use it well for all cats troubled in spirit. |
| Redstar: | With this life I give you wisdom. Use it well when you have the hardest decisions of all to make. |
| Birchstar: | I give you a life for sympathy and understanding. Use it well for the weakest in your Clan, and for all the others who need your help and protection. |
| Swiftstar: | I give you a life for selflessness. Use it well in the service of your Clan. |
| Dawnstar: | I give you a life for determination. Use it well to set your paws on the path of what you know to be right. |
| Birdflight: | With this life I give you faithfulness. Use it well to hold fast to Clan and kin. |
Reference: Firestar's Quest, pages 487-497
Leader info
Kin
Members
Mate:
Billystorm:[24] Deceased, verified StarClan member
Mother:
Unnamed she-cat:[6] Deceased, verified StarClan member
Daughters:
Stormheart:[25] Deceased, verified StarClan member
Son:
Harrybrook:[26] Living (As of River)
Grandson:
Granddaughter:
Tree
    = Male
    = Female
    = Gender unknown
Appearances
Merchandise
Toys and Plush
Firestar & Leafstar - Mini Collector Figures
Series 1
Sturdy mini figure of Firestar and Leafstar, approximately 7cm in height.
Brave Rusty cast away the comforts of kittypet life to defend, and then lead ThunderClan as the legendary Firestar; while the adaptable Leafstar–once a rogue with no Clan at all–took leadership of SkyClan after its reformation. These humble and brilliant leaders will always defend their Clans.
Also included in a three-pack bundle with the rest of Series 1: Graystripe, Jayfeather, Tigerstar, and Tawnypelt.
Approximate individual price is $12.99 USD, and the three-pack bundle is $38.97 USD.
Trivia
Interesting facts
Leafpool is named after her.[28]
Leafstar's most fatal mistake was sending away Sol, who would terrorize the Clans by the lake.[29]
Author statements
Kate said she thinks Leafstar was her favorite character in the A Vision of Shadows arc.[blog 1]
Mistakes
There is slight confusion as to Leafstar's rank when she is first met by Firestar. Cats of the Clans states she was a kittypet,[30] while The Ultimate Guide and the official site says that she was a loner.[29][31] Firestar's Quest, however, says that Leafstar was a rogue.[2]
She has been mistakenly called a brown-and-white tabby.[32]
Continuity
The following information is from sources considered non-canon or retconned.
Quotes
Billystorm: "I love my housefolk, and they're kind to me. I know they make my life so much easier than it would be if I lived in the Clan all the time. But I could never leave you."

Leafstar: "I would never want you to."

SkyClan's Destiny, page 305
"You have to stop thinking about Billystorm in that way, right now! You have a different destiny, one that involves the future of the whole Clan. And it is a path that you must walk alone."
―Echosong to Leafstar
Skywatcher: "You must feel as though these visitors have been using SkyClan for their own ends."

Leafstar: "Yes! That's exactly how it feels."



SkyClan's Destiny, pages 401-402
See more
"This is how Clan cats fight. We do not try to kill, and we do not make enemies of the weak or the young."
―Leafstar's thoughts on Clan cats fighting
"Silence! I will not hear such talk. Have you forgotten our history? SkyClan has endured so much. When Twolegs invaded our old territory and drove us out, when the other Clans refused to share with us—not even that could end SkyClan. And this new attack won't, either!"
―Leafstar
Tree: "[Echosong] says you must stay."

Leafstar: "Echosong's vision may have led us here, but it will not keep us here. I must do what's right for SkyClan now, not what was right for us when Echosong was alive."



The Raging Storm, pages 199-200
"That doesn't mean you should die there! There was nothing for us at the lake. No land! No prey! No respect! we would have had to fight for every morsel. Is that really how you want to live? Treated like rogues? Have you forgotten who you are? You're SkyClan. The lake was never home. StarClan only wanted us there for some prophecy that was never to do with us. Why should we sacrifice ourselves for Clans who don't even respect us?"
―Leafstar to her Clanmates about leaving the lake
Leafstar: "And what about ShadowClan?"

Tigerstar: "ShadowClan only ever wanted fairness. If I hadn't stood up for what belonged to ShadowClan, nothing would have changed. You would have kept half our land, and my Clanmates would have faced countless moons of hunger."



The Raging Storm, page 319
"The Clans are on edge. Who knows what will happen next? We've had no word from StarClan. Bramblestar is spreading panic and fear, throwing around accusations about codebreakers. If he's trying to use StarClan's silence to make ThunderClan more powerful, we need to be on the alert. SkyClan needs strong, reliable warriors. There's no time for your antics. You need to try harder. You owe it to your Clan, to your mentor, and to yourself."
―Leafstar to Rootpaw
"This will be a difficult time for the other Clans. Our home is beside the lake now, even if StarClan's message doesn't include us, we must support every Clan in whatever they decide."
―Leafstar to SkyClan
Bramblestar: "You've been very quiet. Are you going to object to upholding the warrior code too?"

Mistystar: "I didn't obj—"



The Silent Thaw, page 183
"I don't know what to make of any of this. I trust my medicine cats, and I know that Tree and Rootpaw are loyal Clan members. I want to believe them, but I don't want to believe that some mysterious spirit cat is driving ThunderClan to exile its warriors. The stakes of being wrong are so high. SkyClan is still the new Clan around the lake; if we accuse Bramblestar of being an impostor, we could start a war. [...] SkyClan lived alone for a very long time. We haven't faced as many battles as the cats who have been living by the lake for all these moons—and in their old forest for seasons before that. In battle many cats die—not just the bad ones. I believe that Tree and Rootpaw are trying to help, but I haven't seen enough yet to risk cats' lives."
―Leafstar about the impostor
Squirrelflight: "We have come here tonight to remember our Clanmates who died fighting for what they thought was right."

Harestar: "Every warrior who fought that day believed they were fighting for StarClan"



Darkness Within, page 45
External links
Notes and references
↑ Revealed in SkyClan's Destiny, allegiances
↑ 2.0 2.1 2.2 Revealed in Firestar's Quest, page 230
↑ 3.0 3.1 Revealed in SkyClan's Destiny, page 13
↑ 4.0 4.1 Revealed in After the Flood, page 69
↑ Revealed in Veil of Shadows, page 257
↑ Revealed in Firestar's Quest, page 334
↑ 8.0 8.1 Revealed in Firestar's Quest, pages 487-497
↑ Revealed in The Rescue, page 7
↑ Revealed in Firestar's Quest, page 335
↑ Revealed in SkyClan and the Stranger, page 152
↑ Revealed in The Apprentice's Quest, page 87
↑ Revealed in Firestar's Quest, page 304
↑ Revealed in Ravenpaw's Farewell, chapter 10
↑ Revealed in Darkest Night, page 28
↑ Revealed in Hawkwing's Journey, page 138
↑ 18.0 18.1 Revealed in Firestar's Quest, page 487
↑ 19.0 19.1 Revealed in Firestar's Quest, page 490
↑ 21.0 21.1 Revealed in Firestar's Quest, page 497
↑ Revealed in SkyClan's Destiny, page 450
↑ Revealed in Hawkwing's Journey, page 136
↑ Revealed in SkyClan's Destiny, page 462
↑ 25.0 25.1 Revealed in The Rescue, page 87
↑ Revealed in The Rescue, page 86
↑ 27.0 27.1 Revealed on the Warriors website family tree (screenshot)
↑ Revealed in Firestar's Quest, page 510
↑ 29.0 29.1 Revealed in The Ultimate Guide, page 145
↑ Revealed in Cats of the Clans, page 88
↑ Revealed in Moth Flight's Vision, page 404
↑ Revealed on Vicky's Facebook
Author references