"Haven't I always been a loyal warrior, living my life by the code and leading my Clan accordingly?"
This article contains major spoilers for the recently released book,

River

. Please proceed at your own discretion.
"I'll do it. I love my Clan, in spite of it all. I'll help you rebuild RiverClan. As deputy. I'll never be a ThunderClan cat, not truly. If we survive this battle, I'll come home."
— Mistyfoot to Leopardstar about becoming her deputy in Leopardstar's Honor, page 532

Mistystar is a lithe,[24] frail[25] pale blue-gray she-cat[26] with thick,[15] sleek fur,[27] a pink nose,[28] a plumy tail,[29] and wide[30] ice[31]-blue eyes.[15] She has a dull and thinning pelt, and a graying muzzle.[32]
Mistystar was a leader of RiverClan in the lake territories. She was born as Mistykit to Bluefur and Oakheart alongside her siblings, Stonekit and Mosskit. She was initially raised in ThunderClan by Bluefur and Thrushpelt; however, Bluefur gave her kits to Oakheart in RiverClan, and thereafter, she was raised by Graypool. After completing her apprenticeship, she became a warrior as Mistyfoot, and had Blackclaw's kits, Reedwhisker, Pikepaw, Primrosepaw, and Perchkit.
Mistyfoot became a mentor to Featherpaw and was taken prisoner in TigerClan by Tigerstar for being half-Clan, and after Stonefur was killed, she escaped to ThunderClan with Featherpaw and Stormpaw. She was made deputy by Leopardstar and served her Clan for many moons, mentoring Mothwing and Dapplenose. Mistyfoot became leader as Mistystar and chose Reedwhisker as her deputy; however, she faced problems with Mothwing and her belief in StarClan, but in the end, she accepted her as a medicine cat. Following the Kin's defeat, Mistystar closed her borders, but reopened them when a fire required her Clan to be rescued. When Bramblestar's impostor began punishing codebreakers, Mistystar exiled Mothwing, and after a battle, she exiled Icewing and Harelight. She ventured into Dark Forest to defeat Ashfur and was named a Light in the Mist for her role in saving the Clans.
After changes to the warrior code were negotiated by the Clan leaders, Mistystar collapsed in RiverClan's camp when her warriors questioned her. Her spirit joined StarClan, but with Reedwhisker's mysterious death, RiverClan was left without a leader. RiverClan kept their predicament a secret from the other Clans, and Frostpaw and Mothwing temporarily led until StarClan chose Curlfeather.
History
Looking for a longer overview? Find one here!
Mistyfoot: "I'm going with Leopardstar. I'll always be grateful for what you did, but I'm a RiverClan cat at heart."

Firestar: "But...as deputy? After what happened to Stonefur?"



The Darkest Hour, page 310
Ultimately, it is revealed to her and Stonefur that Bluestar, the current leader of ThunderClan, is their true mother, and the two refute the claim initially. They eventually accept Bluestar as their mother shortly before her death and forgive her. Tigerstar, having witnessed the revelation, imprisons Mistyfoot, Stonefur, Featherpaw, and Stormpaw, as the four are half-Clan. Stonefur is killed while Firestar, Graystripe, and Ravenpaw help Mistyfoot, Featherpaw, and Stormpaw escape to ThunderClan. She participates in the battle against BloodClan, and Leopardstar makes her deputy in place of Stonefur, as she feels guilty over Stonefur's death and believes Mistyfoot would do the job well.
"Hawkfrost, I've already told you what a mouse-brain idea it is to camp on the island. Warriors can swim over there, yes, but what about kits and elders? And what if something happens to the fish in the lake? We'd never be able to carry fresh-kill across from the shore."
―Mistyfoot arguing with Hawkfrost about RiverClan's camp
"We're not eating rabbit, if that's what you're worried about!"
―Mistyfoot to Crowfeather when RiverClan moves to the island
"You...you don't believe in StarClan? But you've been our medicine cat for so long! Have you never walked with StarClan in your dreams?"
―Mistystar discovering Mothwing doesn't believe in StarClan
"I wish you all well. But this is RiverClan's last Gathering for a while. We will stay on our land and rebuild what was destroyed by the rogues. But the Clans can make decisions without us for now. RiverClan needs time. We need peace, and we need to look inward to heal the wounds that have been inflicted on us. From tonight, I am closing our borders."
―Mistystar deciding to close RiverClan's borders
"We are taking this risk because it is unthinkable not to do so. We must stop Ashfur and save StarClan. Squirrelflight was right when she spoke yesterday. Our connection to our ancestors is what makes us warriors, and we must preserve it. I was wrong to question the idea of sending help, and I am glad that by joining this mission, I can prove my loyalty to StarClan."
―Mistystar to the Lights in the Mist
"Do you think I've been lying to you? Or are you questioning my judgment? Haven't I always been a loyal warrior, living my life by the code and leading my Clan accordingly?"
―Mistystar to Duskfur
This section summarizes Mistystar's significant Super Editions appearances. If you're looking for a full list, find one here!
"I can't be what I want to be. I need to be as strong as fire. I need to save my Clan. It is for the best. I hope they know that they have been loved. Even if they don't remember me, I hope they'll know that."
―Bluefur to Oakheart about giving up her kits
Leopardstar: "I want you to be my deputy. I can't think of a better cat to help me make RiverClan what it was always meant to be."

Mistyfoot: "Would you listen to me?"



Leopardstar's Honor, page 532
This section summarizes Mistystar's significant Novellas appearances. If you're looking for a full list, find one here!
"I promise to be the strongest, wisest leader I can be. I will do my best to echo your loyalty to RiverClan and your courage to speak out on our behalf, and I will learn from your mistakes. I know that I don't need to prove to the other Clans that RiverClan is the strongest or most powerful. I just want my Clanmates to be happy and at peace."
―Mistyfoot thinking about Leopardstar after her death
Character pixels
Main images
Alternate images
Official art
Please do not edit this gallery
Ceremonies
Mistystar's leader ceremony
Graypool:
Hush, little one, you'll be fine. There's nothing to get wrong; I promise. Are you ready? My precious Mistyfoot, beloved nearly-daughter, I give you a life for loving your Clanmates as if each cat were your kit, borne of your body and your pain.
Mistyfoot:
Thank you, Graypool.
Stonefur:
I told you we would meet again. I give you a life for treating all cats equally, for fighting against injustice and unfairness wherever it comes.
Mistyfoot:
Feathertail! I have missed you!
Feathertail:
I have missed you too, Mistyfoot. I haven't forgotten the lessons I learned as your apprentice. The life I give you is for accepting your destiny, however hard that may seem. Some things are beyond our control; that doesn't mean they should be fought against.
Crookedstar:
Welcome, Mistyfoot. You don't have to do that now. We are equals here. I give you a life with the wisdom and strength to carry the burden of leadership. It will weigh heavy, but remember that every problem is nothing more than a challenge to be overcome.
Oakheart:
My beautiful daughter. I am so sorry I could not be a true father to you. Live well, believe in yourself, and we will walk in StarClan together one day. I give you a life with the courage to follow your heart.
Bluestar:
Oh, my daughter. If only you knew how much I missed you. The life I give you is for doing what is right, however hard that might be.
Mistyfoot:
I know you only ever tried to do the right thing.
Bluestar:
Thank you.
Mistyfoot:
Silverstream, is that you?
Silverstream:
Well met, Mistyfoot. I am so proud of what you have become. I give you a life for finding happiness, even in the most unlooked-for places. Whatever happens, never forget how to be joyful.
Mistyfoot:
Thank you.
Oh, Rippletail. I'm so sorry you didn't return. You saved the lake, you know? The water came back!
Rippletail:
I only ever wanted to help my Clan. My life was worth that. The life I give you is for curiosity, for the courage to find out what lies beyond the horizon. Never turn down a chance to learn something more.
Mistyfoot:
I won't; I promise.
Perchkit! My baby!
Perchkit:
I knew I'd see you again. They said I could give you a life, too. So mine is for bravery, even when you are walking into shadows. There will always be light, even in the darkest night.
StarClan:
Mistystar! Mistystar!
Reference: Mistystar's Omen, chapter 3
Leader info
Family
Appearances
Merchandise
Toys and Plush
Mistystar Keychain - Discontinued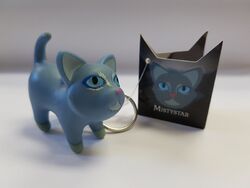 Head to school in style with with RiverClan's Mistystar, a cute Warrior Cats keychain.
Mistystar, with determination inherited from her mother and loyalty from her father, represents the grace and pride of RiverClan.
Also included in a three-pack bundle with Gray Wing and Firestar.
Approximate individual price is $7.99 USD.
Mistystar Mini-Plush Head - Discontinued
Series 2
A stackable mini-plush head of Mistystar. Approximately 7cm with an anti-stress bean filling.
Also included in a three-pack bundle with Graystripe and Jayfeather.
Approximate individual price is $9.99 USD, and the three-pack bundle is $27.99 USD.
Trivia
Quotes
"Why did she give us up? When she gave Featherkit and Stormkit to RiverClan, she said kits belong in their mother's Clan. If she believed that, shouldn't she have kept us with her?"
―Mistyfoot to Stonefur about their mother's sacrifice
"Leopardstar says that they're staying with us so the Clans can exchange training methods and fighting techniques, but I don't see much sign of it. All they do is watch....It's like they're learning all about us, all our secrets and weaknesses. That's why I came over here, to get away from them for a bit."
―Mistyfoot telling some ThunderClan cats about ShadowClan
"Stonefur, Stonefur. What will I do without you?"
―Mistyfoot mourning the death of her brother
See more
Leopardstar: "I'm sorry. I was wrong to make RiverClan part of TigerClan. I should have seen that Tigerstar was greedy only for power. As soon as I saw he was a threat, I should have stood up to him. I should have protected you. It's my fault Stonefur died. I will never forgive myself. I don't know now how I could have doubted him. I don't know how I doubted any of my Clanmates, no matter their blood. You loved RiverClan as much as I did. But I changed RiverClan into something no warrior could love. Now I'm going to change it back. I'm going to rebuild it."

Mistyfoot: "What does that matter to me, or to Stonefur, or to Featherpaw and Stormpaw? We have a new Clan now. ThunderClan has accepted us completely. They don't care about our blood. They care only that we are willing to hunt and fight for our Clanmates"



Leopardstar's Honor, pages 531-533
«But what do I say to her? Do I tell her that seeing her has lifted a weight off of me that I didn't even know I was carrying? Do I tell her how much I missed her…and that I've realized how much I love her? What do I say?»
—Leopardstar's thoughts upon Mistyfoot's return
"You sent this moth, didn't you, Stonefur? You meant this to be an omen, an omen for me that I should trust Mothwing's instincts, and not judge her for what she does not do."
―Mistystar working out the meaning of the omen
Mistystar: "Blackstar, none of us have forgotten the Clanmates that we lost to the Dark Forest. Let us remember our fallen in our own way. Since when have you spoken for all of us?"

Blackstar: "These cats are still with us, watching the Clanmates they died to save! We need to honor their memory!"



Bramblestar's Storm, pages 53-54
"Very well. But none of you should worry. We'll come back for you—I promise you that. Meanwhile...Darktail, you should at least let us take the bodies of our Clanmates for burial."
―Mistystar to his prisoners
"You're a fine one to talk! This is all happening because you couldn't manage to drive the rogues out of ShadowClan territory when they first arrived. Now they've not only taken over your Clan, but RiverClan as well! It's your fault that we're in this position, and I'm not about to risk the lives of my injured cats just to repair your pride!"
―Mistystar to Rowanstar about fighting Darktail
Misystar: "I wish you all well. But this is RiverClan's last Gathering for a while."

Harestar: "What do you mean?"



Darkest Night, pages 32-33
"Mistystar feels betrayed by the other Clans. She feels they should have stopped Darktail before he caused so much harm."
―Willowshine to Alderheart about Mistystar's decision to close its borders
Tigerstar: "Well, at least all the exiled cats can go home again."

Mistystar: "I'm not sure. Icewing and Harelight, come and stand here at the foot of the Great Oak. I believed that you were loyal RiverClan warriors. Yet in the battle I saw you fighting against your Clan. You disobeyed my orders. Even now that I know the false Bramblestar was evil, I must send you into exile."



Veil of Shadows, pages 286-287
Reedwhisker: "Remember what we talked about."

Mistystar: "I'm not going to change my mind."



A Light in the Mist, page 183
"I know how much it hurts to lose a cat you love. And I would never accuse you of disloyalty. But if we allow cats from different Clans to become mates and have kits, it'll undermine every Clan."
―Mistystar to Rootspring
"It won't be difficult to pay tribute to Mistystar. She was such an important cat to us here in RiverClan. She did so much for so many..."
―Shimmerpelt about Mistystar during her vigil
Frostpaw: "Mothwing? I'm so sorry. I know you were close with her."

Mothwing: "I can't believe that I'll never speak to her again. We lost so much time while I stayed with ShadowClan. Maybe I was too proud."



River, page 93
External links
Notes and references
↑ 2.0 2.1 Revealed in Bluestar's Prophecy, page 466
↑ 3.0 3.1 Revealed in The Darkest Hour, pages 198-200
↑ Revealed in The Darkest Hour, page 179
↑ Revealed in The Darkest Hour, page 188
↑ Revealed in Crookedstar's Promise, page 450
↑ Revealed in A Light in the Mist, page 328
↑ Revealed in Bluestar's Prophecy, pages 464-465
↑ Revealed in Bluestar's Prophecy, pages 505-506
↑ Revealed in Crookedstar's Promise, page 459
↑ 13.0 13.1 Revealed in The Darkest Hour, page 310
↑ Revealed in Fading Echoes, page 30
↑ 15.0 15.1 15.2 Revealed in Forest of Secrets, page 54
↑ Revealed in A Dangerous Path, page 253
↑ Revealed in Mothwing's Secret, chapter 1
↑ Revealed in The Sight, allegiances
↑ Revealed in Fading Echoes, page 29
↑ Revealed in Fading Echoes, allegiances
↑ Revealed in Forest of Secrets, page 278
↑ Revealed in Lost Stars,

chapter 20

↑ Revealed in Bluestar's Prophecy, page 467
↑ Revealed in River of Fire, page 55
↑ Revealed in A Light in the Mist, page 92
↑ Revealed in A Dangerous Path, page 310
↑ 33.00 33.01 33.02 33.03 33.04 33.05 33.06 33.07 33.08 33.09 33.10 33.11 33.12 33.13 33.14 33.15 33.16 33.17 Revealed in Mistystar's Omen, chapter 3
↑ Revealed in A Light in the Mist, page 3