Ello~

(Formally known as ~Breezeheart~.)

I'm just some gravity falls trash. ;) Bill Cipher though.

Hey there, im Breezefeather, but i strongly prefer to be called Breeze or Amber.  I am a former senior warrior, and currently a warrior and mentor of PCA, and you can see my chararts  here . I absolutely love Jacksepticeye and Markiplier. Youtube is basically all I watch nowadays, and its gotten me through alot of shit. I also like to play Kingdom Hearts, Animal Crossing, Five Nights at Freddy's, and a few other online games. I like to draw, and  i wish to some day persue a career in the art field,  so everything is good practice. =). My hobbies include drawing, reading, sewing, and animating. I have been on the wikia since 2013.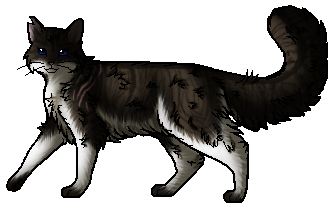 Thoughts on Other Users
Hawky - The most amazing mentor any user could ask for. <3. Hawky taught me alot when i was still a noob to the project. She's one of the most helpful leads i've ever met, as she was one of the first users here to actually get to know me. She's my naruto-buddy <3. and she's like a best friend to me. =)
Jayce - Jayce is a very good friend, and an amazing lead. They arent afraid to speak their mind when it comes to enforcing the rules; and i respect them for that. They make some of the most amazing chararts i've seen, and i admit, they were a role-model to me when i first joined. I know i can always count on them, and im happy to have them as a friend.
Shinx -  She is a great friend of mine, and her chararts are utterly amazing. She's my fellow Fnaf-buddy, and she's always fun to talk to.
Tiger - I really don't know her as much as everyone else, but she's a very good artist. Her chararts have gotton so much better than when she first joined, and i hope i get to know her better sometime in the near future. =)
Bbuni - Beebs is a very helpful user when it comes to PCA. Her chararts are amazing, and she's always willing to help when you have a problem. She's a great leader, and i respect her.
Giaria - My dear apprentice in PCA, she's very skillful when it comes to chararts. She's alot of fun to talk to, and always has a great sense of humor in any situation. Im honored to be her mentor, and im happy that i have her as a friend. =)

David - David is one of the nicest, sarcastic users you'll ever meet. His chararts are one of the best ive seen, and he's a great user in general. I know i could rely on him if i ever needed it.
Berry - Ever since Berry rejoined the project, I can really tell they honestly care about the wikia as a whole. They often update the chapter summaries, and they're chararts are phenomenal. Im glad ive gotten the chance to meet them, and I hope to know them better sometime in the future.
Bramble - What can I say? Bramble is very calm and collected when conflict arises, and their chararts are absolutely stunning.
File:Tom (Ro).rogue.pngFile:Clear Sky.ancient.png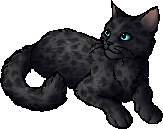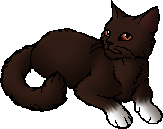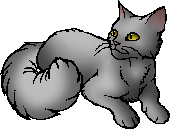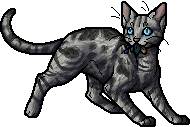 File:Coal (NP).rogue.png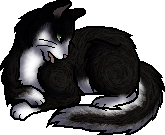 If you would like to request a charart, please fill out the form i have posted below

Charart Form:

 Character's Name:
Character's Rank:
Chatacter's Description:
Special Markings:
Injuries, Scars, Stubby Tails, Etc:
Eye Color:
Texture, or no Texture?:
Clan:
What Will it be Used for?:
Reference:
Extras:
I also take signature requests:
Signature Form:
Text (Your name/nickname):
Color scheme (Main color's used on your signature):
Font:
Additional Text (Like a saying beside your username):
Links (What the text links to, like your Userpage, Talkpage, Contributions, or Chararts page):
Symbols (Like stars, hearts, peace signs, etc to go beside the text):
How would you like it layed out? (I.e; Nickname on top, saying and symbol  beside it but a bit below it/ vice versa. Be specific, please.):

I will try to get requests done as soon as i can. But please, if you do request, fill out the form correctly. When i am done with your request, i will post it on your TalkPage.
This user likes the
[[:Category:|]]
|}
Community content is available under
CC-BY-SA
unless otherwise noted.