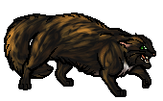 Hi! I love Warriors Cats, and have read them for a looooooooooooooooooooooooong time. I am a editor here, but I mostly only edit StarClan and obsessively check the Character Art Approval Page for comments to my art. You can call me really anything, as long as you tell me what you are calling me first. ErmineGlow and Ermine are preferred though. Some other wikis I frequent are the Jurassic Park wiki, Video Game Fanon wiki, and the Dinopedia. In real life, my most frequent activity is being weird.
I am also currently taking charart requests if anybody wants one. The form is below
Charart Request Form
Rank: (Warrior, StarClan, etc)
Pelt Length (Long furred, short furred, bushy tail like Feathertail's)
Pelt Description/Colour: (Ginger, Cream, Gray, tortie, etc)
Extras: Torn ears, scars, etc)
My favorite pages
Community content is available under
CC-BY-SA
unless otherwise noted.