Note: I am returning to college starting 26 August and will be less active due to classes and a job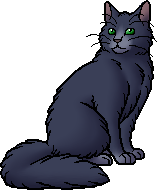 You can call me Alois, Hilda, or Juniper/Juni. They/them or he/him pronouns, please (though I'm fine with any pronouns except for she/her). I'm an autistic genderqueer college student who is in way too deep with Warriors, and decided now to try and help out. I'm mostly active in Project Character art, and you can see my chararts here.
I really like cartoons and anime, with my favorites being Danny Phantom, Phineas and Ferb/Milo Murphy's Law, Cells at Work, Fullmetal Alchemist (both 2003 and Brotherhood), and Steven Universe. I'm also really into Super Mario Bros., Pokemon, and Homestuck.
Dovewing is my favorite character and I would die for her. I wish Bumblestripe wasn't... Like That because BumbleDove has been my OTP since I was 11.
Feel free to talk to me, but I apologize ahead of time if I'm not very responsive. I'm not the most talkative person at times.
You can find me over on AO3 under the name Colress. I write primarily Warriors fanfiction, though I branch out to other fandoms on occasion. I have several Warriors stories in progress, the most popular of which is a Briarlight story where Jayfeather gives up his life for her to live hers, believing she died too soon. Stories in planning are a Power of Three AU where Briarlight, Blossomfall, and Bumblestripe are the Three, and novellas about Cinderpelt, Blackstar, Bumblestripe, and Willowpelt.
| | |
| --- | --- |
| | This user thinks that someone should tell Millie she has 3 kits, not 1 |
| | |
| --- | --- |
| | This user thinks that Tigerstar is way too ambitious |
| | |
| --- | --- |
| | This user thinks that Stormtail ignores his kits |
| | |
| --- | --- |
| | This user thinks that Spottedleaf pokes her nose into everything |
| | |
| --- | --- |
| | This user thinks that Brambleclaw always has to take control |
| | |
| --- | --- |
| | This user thinks that Leafstar has issues with naming cats |
This user listens to music by
wowaka
Community content is available under
CC-BY-SA
unless otherwise noted.