Kitsufox is a Very Busy Person
Please excuse any lags in response and suchlike. Being a professional Graphic Designer is alot of work.
Kitsufox is a Warriors Wiki Sysop
If you need assistance with the affairs of the Wiki feel free to Ask (Assuming it does not belong in the Reporting Center).
If you need to make direct contact, please check below for my email address.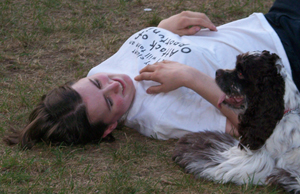 Kitsufox
is a Warriors Fan devoted primarily to the Role Play Community of the Fandom. She is frequently referred to as 'Kit', 'Kitkit', or 'The Fox'.
She feels that, with hard work and devotion, this Wiki can become a reference of such quality that even the authors will use it.
Vitals
Name:
Kelly "Kitsufox" P.
Email Address:
admin@kitsufox.com
Please refrain from using this address unless you have a screenshot to submit, or cannot use my talk page. I prefer to keep Warriors Wiki business public and here on the website.
Gender:
Female
Age:
36 Years
Marital Status:
Married
Husband:
Paul "Vago" P.
Occupation:
Graphic Designer! Specializing in Web Design.
Pets:
Dogs:
Teddy (American Cocker Spaniel, 4yrs, Male)
Billie (American Cocker Spaniel, 2yrs, Female)
Guinea Pig:
Merlin (American, Aprox. 5-6yrs, Male) Rest in Peace, Merly-burly. I'll miss you.
Brief History of the Fox
Born in a small town, she grew up in a loving (albeit broken) family, under the tutelage of a mother encouraged individuality and independence. She graduated High School in the year 2000, and attended a Technical School for a short while. Following a rather long hiatus she returned to college and in May of 2011 she received a degree in Graphic Design. A week after graduation she was hired by a local branch of WSI and is now employed as a web designer.
Userboxes
General
Project Memberships
Books Owned
Original Series
Super Editions
New Prophecy Series

This user owns a copy of


Dawn

.

This user owns a copy of


Sunset

.

The Power of Three Series
Involvement
Kitsu's . . .
Custom Userboxes
Kitsu's Thoughts & Notes
On Colors
Light - #EBF6F9
Dark - #3665A2
Ex-dark - #104FA0
Project Secondary - #5236A2
On Blogs
Consider this my official announcement of a personal war on blogs. Or at least Blogs that violate policy. If you notice any blogs that are pointless, purposeless, or otherwise deserve deletion, just drop me a link on my talk page and I'll take a look.
On Bans
I hate issuing bans. Anyone who likes to do it should never be an admin. Bans are the last resort, the most powerful weapon that exists on a wiki to curtail a problem users. They're used for users who will not learn, refuse to follow rules that they have been informed of, and users who are maliciously causing damage. They are not for users who make mistakes while editing an article. They're not for users who make unpopular edits. They're not to be used to teach lessons to users who make edits in good faith, even if those edits do not necessarily jive with consensus (bans should be used, however, if those users attempt to edit war following having the community consensus explained to them, and the conversations that established that consensus shown to them).
In short: Bans should not be used unless there are no other options left for handling the user.
The Fox's External Links
Community content is available under
CC-BY-SA
unless otherwise noted.