hi i'm cloudy and i think feudal japanese men are cool
im straight and i think garrus is dumb
---
"Now... now and then, you come around... like there's something left for me.
We were one, we were everything.
I'm still here, but I'll just keep the rest for me."
---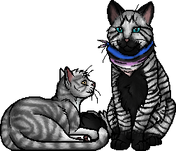 Jayce/KT (Shepard, Cloud, Skye)
They/He | 28 | Northeastern Pennsylvania
Resident Tribe of Rushing Water enthusiast and hater of Squirrelflight's Hope
Discord: @ademonslexicon#0213 | twitter:

@vakarian_effect


insta:

ademonslexicon

|

Love Live! School idol festival progress




David

is a nerd, and I love them endlessly.
---
Hello there! I'm just your resident insomniac editor who happens to be an administrator and bureaucrat. I've been on this wiki for twelve years, and I have no intentions of going anywhere any time soon. I currently lead two content projects:

the one that makes all of the character art

, and

the one that helps out with writing character pages

! My

artwork is here

and my regular

nominated article work is here

, but I do help out pretty much everywhere and edit all sorts of pages. I also once lead

the book article project

, but stepped aside to give others a fair chance, but I do sometimes help if the project requires it. If you have a question, please ask away! I don't bite, but sometimes I'm tired and forget to answer messages, please don't take it personally!
~~
Outside of the wiki, I am a long-standing member of

Community Council

, and I am also part of the

administration crew on Community Central

. I am extremely proud of all of the work that I've done over the years, and consider it a humbling and honoring experience to be able to make a difference.
---
I love Cloudtail, Pinestar, Power of Three, The Broken Code, and Omen of the Stars, and no, these are not up for debate or discussion.