hi i'm cloudy and i think feudal japanese men are cool
im straight and i think garrus is dumb
---
"Ain't nothing normal when it comes to you and me.
I'd rather twist myself in knots, than watch you give up on your dreams."
---
"StarClan knows, I'm really too old for this, but I promise you I'll do my best."
—Graystripe in

The Place of No Stars

, pages 90-91
---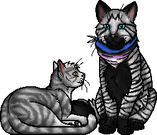 Jayce Lynn (KT, Shepard, Cloud, Skye)
They/He | 27 | Northeastern Pennsylvania
Resident Tribe of Rushing Water enthusiast and hater of Squirrelflight's Hope
Discord: @ademonslexicon#0213 | twitter:

demonslexicon


insta:

ademonslexicon

|

Love Live! School idol festival progress
---
I've been here almost twelve years, and I am an administrator and bureaucrat here. I started out as a chat moderator promoted by a rogue staff member, and I worked my way up from there. I have a lot of edits, due to me contributing for as long as I have. I lead PCA (

art is here

) and PC (

article work is here

), and help out pretty much everywhere. Curious what I plan on doing? Check out my

to-do list

!
Outside of the wiki, I am a long-standing member of

Community Council

, and I am also part of the

administration crew on Community Central

. I am very proud of the work that I do, both here on the wiki and Fandom-wide, and consider it an honoring and humbling experience to work with Fandom on a daily basis.
Also, yes, I love Cloudtail, Power of Three, The Broken Code, and Omen of the Stars, and no, I will not argue this with you for any reason whatsoever.
---
David

is a nerd, I love them endlessly.
Community content is available under
CC-BY-SA
unless otherwise noted.