"Show yourself! Step into your power! Grow yourself into something new."
Elsa, Iduna; Show Yourself
---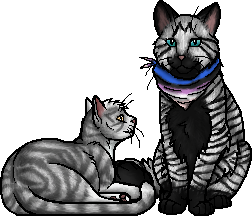 ---
About Me
PSA that
David
is a nerd and I love them bunches.
My name is Jayce, and contrary to popular belief, I am not all-knowing and I'm a very tired and exhausted human being. I've been doing this for almost eleven years, and I've seen so much in the last decade.
I'm the leader of both
PCA
and
PC
, and I'm the former leader of
PB
.
Besides Warriors, I'm interested in Love Live!, Red Dead Redemption, The X-Files, Welcome to Night Vale, Final Fantasy, Brooklyn Nine-Nine, My Little Pony: Friendship is Magic, Far Cry, and Mass Effect. Chances are I'll like it if it has great female characters, space, aliens, or conspiracy theories. Some of my favorite music includes Shinedown, Aerosmith, Journey, Simple Plan, Stone Sour, Seether, and Slipknot.
If you need to contact me, the most preferred option is to use my talk page. I also have the following social media platforms or other websites where I can be reached; Please do not use these options to complain about a block, reverted edits, or other problems.
Discord: @ademonslexicon#0496
List for those who've asked who some of my more common chararts feature.
Userboxes
Book Ownership

This user has read
all the Warriors Books, and
StarClan honors this user.

This user owns a copy of


Dawn

.

This user owns a copy of


Sunset

.
Likes and Dislikes

This user is a fan of
Sol

This user is a
Tribe supporter
Wikia/Personal Userboxes

This user lives in
the United States

| | |
| --- | --- |
| | This user identifies outside the gender binary. |




| | |
| --- | --- |
| 26 | This user is 26 years old |

This user just belongs in
the Tribe

| | |
| --- | --- |
| | This user is a Leo. |

| | |
| --- | --- |
| 鶏 | This user was born in the Year of the Rooster |

This user likes
winter

This user likes
snow

This user likes
darkness

This user dislikes
summer

This user dislikes
sunshine

This user dislikes
rain
Community content is available under
CC-BY-SA
unless otherwise noted.