Countdown to Darkness Within on November 10th.
Counter Loading.
Hey there, friends!
I am TheQueenOfThisShip or Queen for short.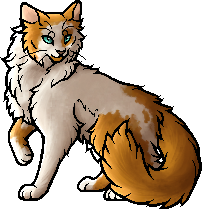 I'm 20, and from Wisconsin in the USA. I go by she/he/any pronouns. (I am female, just open to any pronouns)
I have high functioning Autism and I live in Wisconsin. I currently have 13 (including myself) people in my family. I currently work in a hospital as a Food and Nutrition Aide, but I am hopefully going for another job, so I may not always be on as I am an adult and need to fend for myself.
I've been a Warriors fan since the 5th grade when the first Warriors book I picked up was "Dark River". Of course, I figured out that the books were a series and then actually started reading from Into the Wild. My love for the series only grew from there.
I have been writing fanfictions for years. I am the proud author of my 7 year-long project called CanyonClan's Rise. However, due to motivation issues, I have been a bit lazy in actually completing the books.
On Warrior's Oc Wiki
February 18th, 2018 was when I joined this wiki. I spent some time simply looking at articles before I started to make my own. Tigerstar[1] was probably my first article ever made there. I spent months working on my fanfictions, character pages, and art, until the 31st of December rolled around. Marshywillow[2] came to me as she decided to make me an Admin. I was shocked and very honored. Since that day, I've been doing my best for that wiki.
Rise of CanyonClan Arc:
Book One- The Storm's Beginning [3] (17% complete)
New Realm Arc:
Book One- Looming Impostors [4] (21% complete)
Charart requests are OPEN
QueenOfThisShip
This user has read
all the Warriors Books, and
StarClan honors this user.
| | |
| --- | --- |
| 20 | This user is 20 years old |
Gorsepaw Award
This user has been presented with the Gorsepaw Award. They are very talented, and have achieved becoming an apprentice in Project Character Art!
Firepaw Award
This user has been presented with the Firepaw Award. They are a very brave user, and have joined their first project!
​
Community content is available under
CC-BY-SA
unless otherwise noted.