Greetings, Firespring, and welcome to Warriors Wiki!
We've noticed that you've already made some edits to our articles, and for that, we thank you!! We pride ourselves on being the resource that many Warriors fans use for getting their information, and each and every user has played a very important part in that!
---
If you're interested, we have many content projects and other pages that are worth checking out! All of our content projects always have work to be done, so don't ever think there's nothing to do around here!
- The Warriors Wiki Policies, which have all policies that Warriors Wiki expects its members to abide by. It may look daunting, but don't let the amount of links scare you; it's nowhere near as bad as one might think!! Some important pages within this include our NOT Policy, our Image Usage rules, and signature regulations.
---
— Project:Books - PB is responsible for the book articles that you may see, including pages like Forest of Secrets, Long Shadows, and Firestar's Quest! This project is currently lead by Patchfeather14 and Spookywilloww!
— Project:Characters - PC handles character articles, such as Gray Wing, Cloudtail, and Firestar! This project is currently lead by SnowedLightning and VectorSigma101!
— Project:World - PW takes care of the aspects of Warriors that aren't covered by PB or PC, such as Fox, Badger, and Twoleg! This project is currently lead by ThunderStar321 and Diablo!
— Project:Charart - PCA creates the pixel images that you see on each of our character articles! This project is currently lead by SnowedLightning and Patchfeather14!
---
If the above links prove to not help you, there are many staff members that will help you! Our current administrators are Spookywilloww, and SnowedLightning, and any one of them will be glad to help you with whatever it is you may need! We also have a wide variety of rollbacks and chat moderators that will also be around to assist you! We also have a Discord server, and invites can be given by staff members. Be sure to follow the rules!
Also feel free to fill out your user page so we can get to know you! Thanks, and once again, welcome to the Warriors Wiki!

May StarClan light your path,
Spookycat27 (talk) 08:49, May 11, 2018 (UTC)
Edits
Please stop editing the Owlstar pages. We no longer have proof that Owl Eyes and Owlstar from Secrets of the Clans are the same cat, and we do not have any proof whatsoever that Owlstar from Code of the Clans is the same cat as either one of them. So, they need to stay as three separate articles. Redirecting pages to lead to others without proof is considered adding false information, and we do not tolerate that here.
Also, your avatar does not belong to you, so please change it. That image is for Gray Wing's page, and belongs to the artist that created it. —Jayce  ( 11:24, 6/08/2018 )
Re:
Mistakes don't count unless they span the entire book (such as one in Cloudstar's Journey where a leader is misnamed in the entire book). —Jayce  ( 04:47, 6/12/2018 )
What rank? Minkclaw Winter is coming. 13:48, November 21, 2018 (UTC)
I'll have it done as soon as possible, could be done this week or could be at least two weeks. Minkclaw Winter is coming. 21:02, November 21, 2018 (UTC)
Charart Request
So sorry it's been a while, I'll have it uploaded this week (hopefully). I do apologize with how long it's taking. Minkclaw Winter is coming. 02:13, December 5, 2018 (UTC)
Re; Request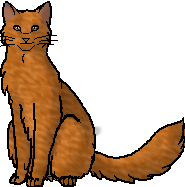 I've finished it, let me know if you want me to change the design or anything. — Ellie Fear breeds a desirefor simplicity 03:13, December 18, 2018 (UTC)
Oi
It is probably not best to reserve a warrior rn as the blanks are remade and the purge will begin soon. Maybe try a minor character?Greenflower Heyvi Kabisa! 16:29, March 3, 2019 (UTC)
Hello!
I legit just noticed you're on this wiki as well! I come here every day just to see what people have been doing. So, hi!
Ebonyheart is the Easter bunny!!(talk!) 23:01, April 22, 2019 (UTC)
OOooohhhh helllllllo my friend!!!!!!!!!!! :DDDDDD
Ahhhhhhhhhh Fyre hiiiiiii!!! This is Crystie from BlogClan!!!!! UwU <3 Crystie Can't help loving me 00:43, August 29, 2019 (UTC)
re
drop me an email. Burntclaw 02:23, August 30, 2019 (UTC)
i need your email to send the file to. Burntclaw 02:08, August 31, 2019 (UTC)
re
yeah ofc. sent Burntclaw 02:44, September 1, 2019 (UTC)
Award
Firepaw Award
This user has been presented with the Firepaw Award. They are a very brave user, and have joined their first project!
Congrats! Vec I am Iron Man! 👾 01:26, September 28, 2019 (UTC)
Community content is available under
CC-BY-SA
unless otherwise noted.