In the first series, sinister perils threaten the four warrior Clans. Into the midst of this turmoil comes Rusty, an ordinary housecat, who may just be the bravest of them all.
In the second series, follow the next generation of heroic cats as they set off on a quest to save the Clans from destruction.
In the third series, Firestar's grandchildren begin their training as warrior cats. Prophecy foretells that they hold more power than any cats before them.
In the fourth series, find out which ThunderClan apprentice will complete the prophecy that foretells that three cats hold the future of the Clans in their paws. Meanwhile, a dangerous force from the darkness rises.
In this fifth series, discover how the warrior Clans came to be.
In the sixth series, Alderpaw, son of Bramblestar and Squirrelflight, must embark on a treacherous journey to save the Clans from a mysterious threat.
In the seventh series, a harsh leaf-bare season descends on the forest, and a new darkness begins to spread—a shadow that threatens a beloved Clan leader, the cats' connection with their ancestors in StarClan, and the very warrior code they live by.
In the eighth series, a new generation of warriors rise—one wrestling with the legacy of his great ancestor Firestar, one seeking to protect her troubled Clan, and one yearning to prove herself as a medicine cat. But tragedy will strike in RiverClan.
These extra-long, stand-alone adventures will take you deep inside each of the Clans with thrilling adventures featuring the most legendary warrior cats.
Discover the untold stories of the warrior cats and the Clans in these short, stand-alone stories.
Discover the exclusive adventures featuring beloved characters in dazzling art-styles. Now in full color!
Delve deeper into the Clans with these Warriors field guides for the ultimate fans.
Dawnfeather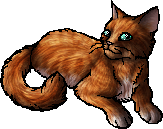 Dawnfeather was a ThunderClan cat and the mother of Nettlebreeze, who was an apprentice when Mapleshade lived in ThunderClan. Dawnfeather went to StarClan after her death, and Goosekit notices her spirit watching over her son, who is now an elder. Goosekit continues to see Dawnfeather's spirit lingering in ThunderClan's camp along with several other StarClan cats. Victoria Holmes, who wrote Goosefeather's Curse, once described Dawnfeather's eyes as the color of sky at dawn.
---
Redtail's Debt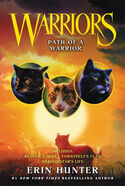 Redtail's Debt
is the thirteenth
novella
. The book was released on April 9
th
,
2019
in
Path of a Warrior
which included
Tawnypelt's Clan
and
Shadowstar's Life
. It was also released the same day as
Lost Stars
. The book was written by
Clarissa Hutton
, and features
Redtail
, ThunderClan's
deputy
from
Into the Wild
, from his apprentice days to his time as
Bluestar's
deputy.
Tigerclaw
saves Redpaw's life from a
hawk
, and insists that he owes him his life. He and Tigerclaw come into conflict over the latter's excessive aggression and Redtail's insistence to his loyalty to ThunderClan. Tensions rise when he, Tigerclaw, and
Ravenpaw
are ambushed by
RiverClan
warriors
at
Sunningrocks
.
"We are taking this risk because it is unthinkable not to do so. We must stop Ashfur and save StarClan. Squirrelflight was right when she spoke yesterday. Our connection to our ancestors is what makes us warriors, and we must preserve it. I was wrong to question the idea of sending help, and I am glad that by joining this mission, I can prove my loyalty to StarClan."