If you have any tutorials you would like put up, put it up for approval on the talk page. Title your tutorials as Username.tutorial.png. If you want to update another tutorial, send it as Username.tutorial2.png. Remember, there can be more than two tutorials on different subjects.




Be sure to vote on the elimination of tutorials.
First and Foremost
Everyone always asks how to become a warrior; well, here it is:
Users join as an apprentice.
Apprentices ask questions if need be from experienced users. Before an apprentice puts art up, they should get basic guidelines from one of the tutorials listed below; i.e: art program, shading style, basic instructions etc.
Journey from apprentice to warrior.

Have three images approved.
Know how to use shading, highlights, blur, etc.
Be able to put in good critiquable comments to others' images.
Tools
Tools for Gimp: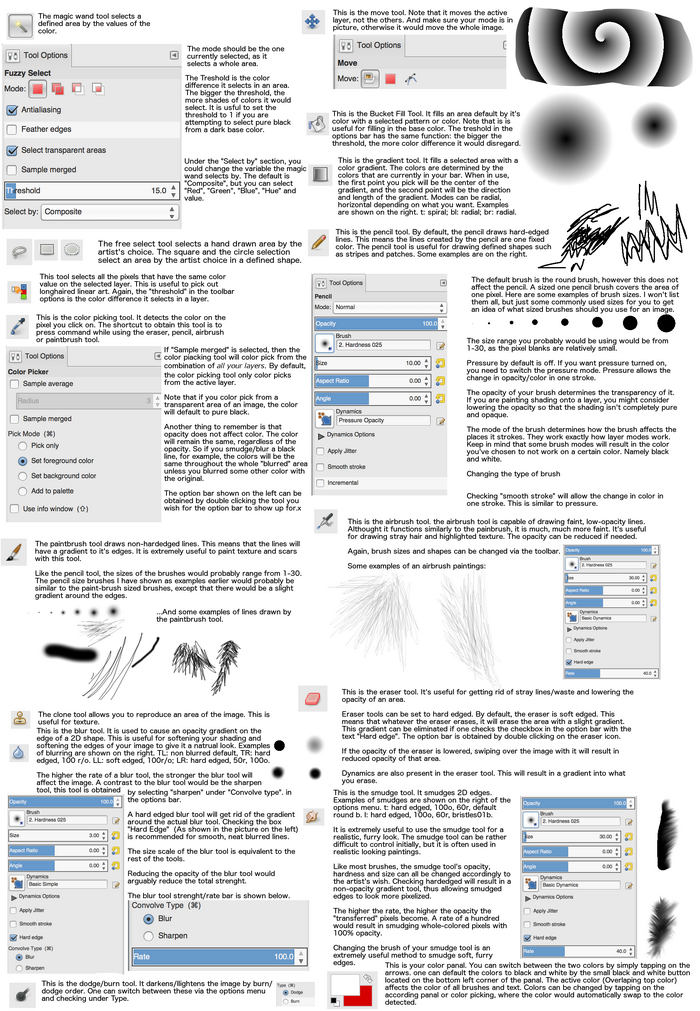 User:Burntclaw/Sig
Tools for Paint.net: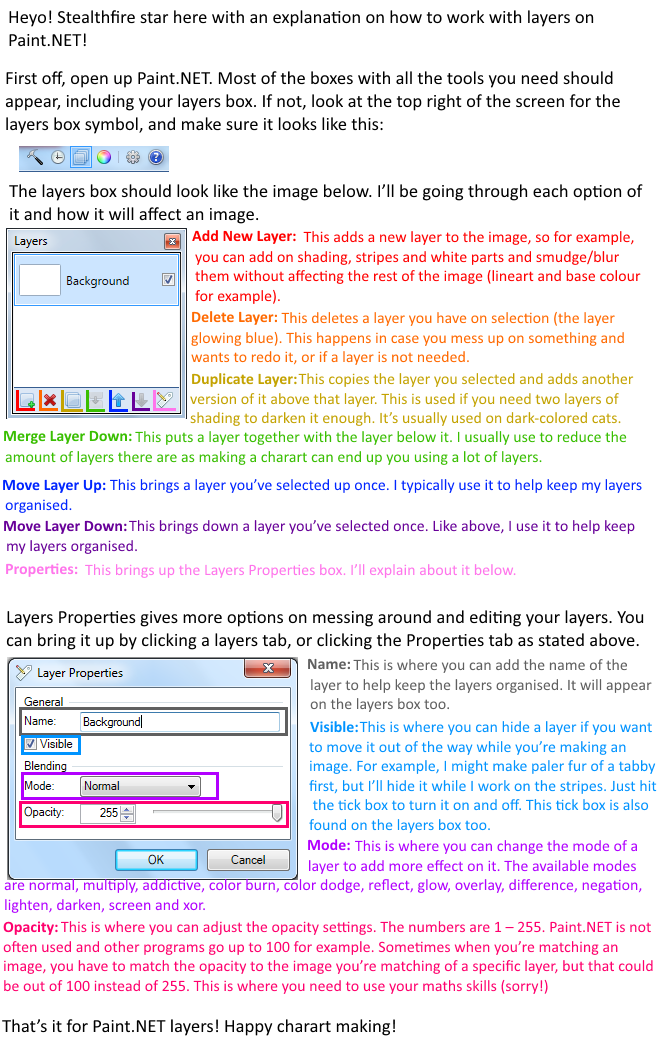 Ears & Eyes
Updated by Stealthf🔥re ❤Warriors Forever!❤
Example Image
We all know that sometime you just can't describe a colour. You want somebody to darken the image, but when they do, the colour looks weird. You want somebody to lighten the earpink, but when they do, the colour is just off. If you really just want to show the artist the colour the earpink or eyes or pelt really should be, you can just use the colour example image. Just save the image to your computer and bucket fill it with the proper colour you want the artist to use, and then reupload the image over the previously mentioned file with what the colour is for, the artist, and the image the colour is for. For example, you could say "Earpink for Wildheart7's Rain (TB)", if you were uploading an earpink colour for my TB image of Rain. Then you would go to (again, just an example) my section on the Tweak Page and put this code: [[:File:Colour.example.png|(insert whatever you want to say here)]] under the section. You'd then say "(insert whatever you want to say here)" or whatever you were going to comment on. Remember, guys, the image shouldn't be used every time you want the artist to darken the stripes or lighten the earpink - just when they really don't get it. Hopefully that was helpful. llwildheart™l
Shading Placement
Updated by Sun Man, that man is nonstop♣•
Texture
Light Source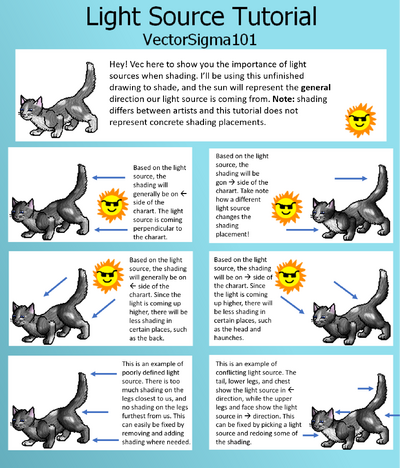 Plain Cats
Coloured

White
—patchfeather . You're poison running through my veins
Dual Coloured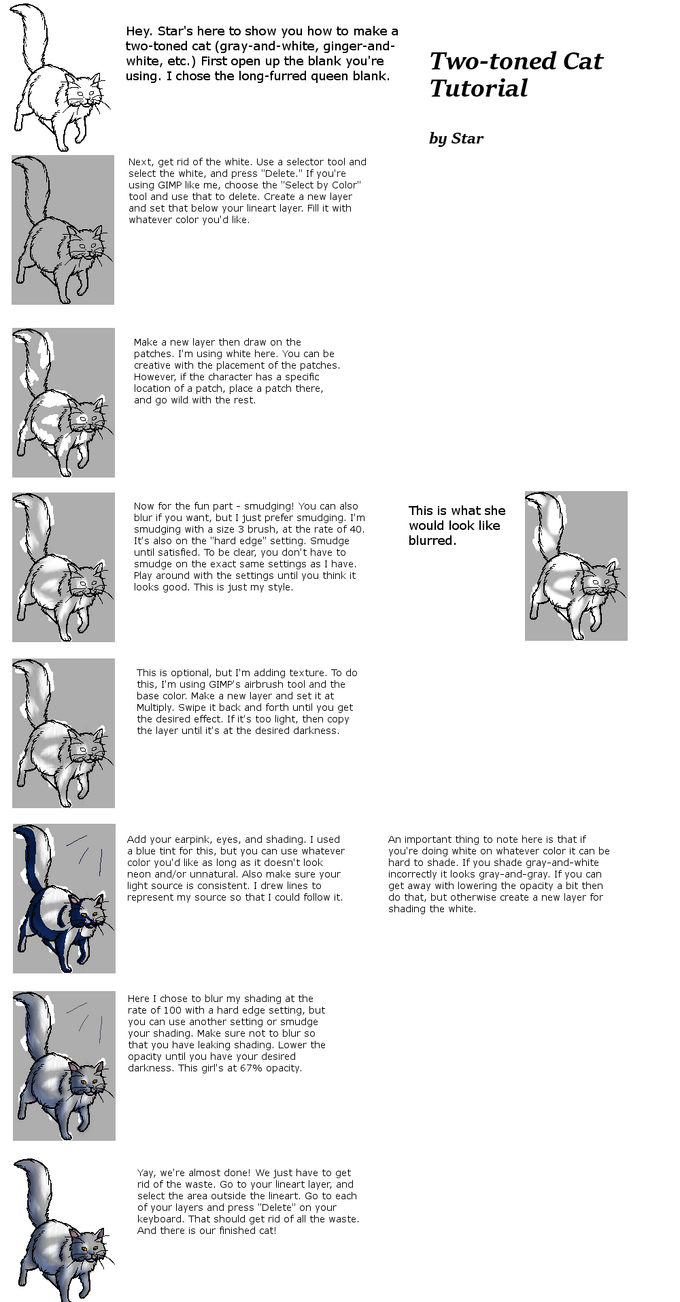 ❄Star❄ show yourself, i'm ready to learn<>
Tabbies
Tabby Types - Shelly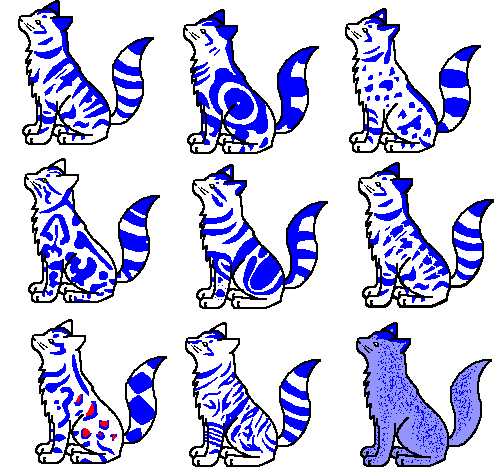 Please do not simply copy and paste these onto your image, they're merely a guide and should not be directly pasted onto an image.
Tabbies
Marbled Tabbies

By: Blue Orca
Dappled Tabbies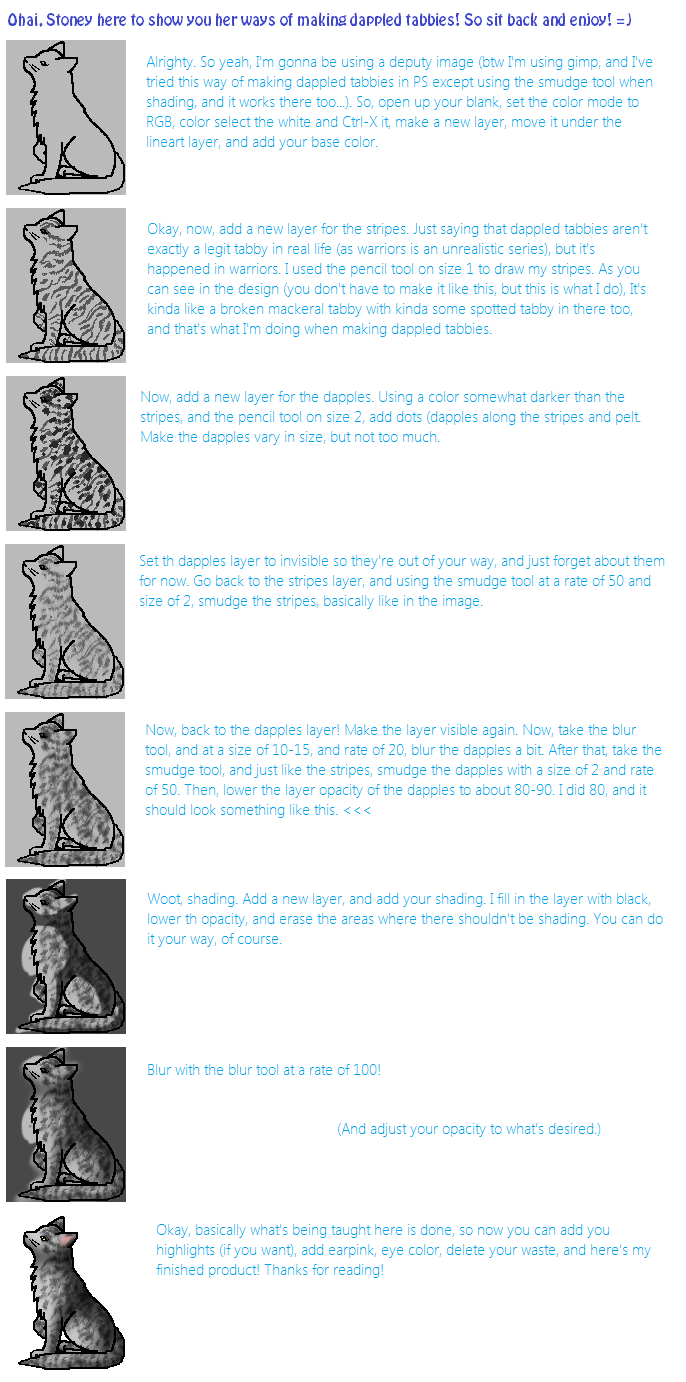 Stoneclaw    04:15, December 2, 2011 (UTC)
Spotted Tabbies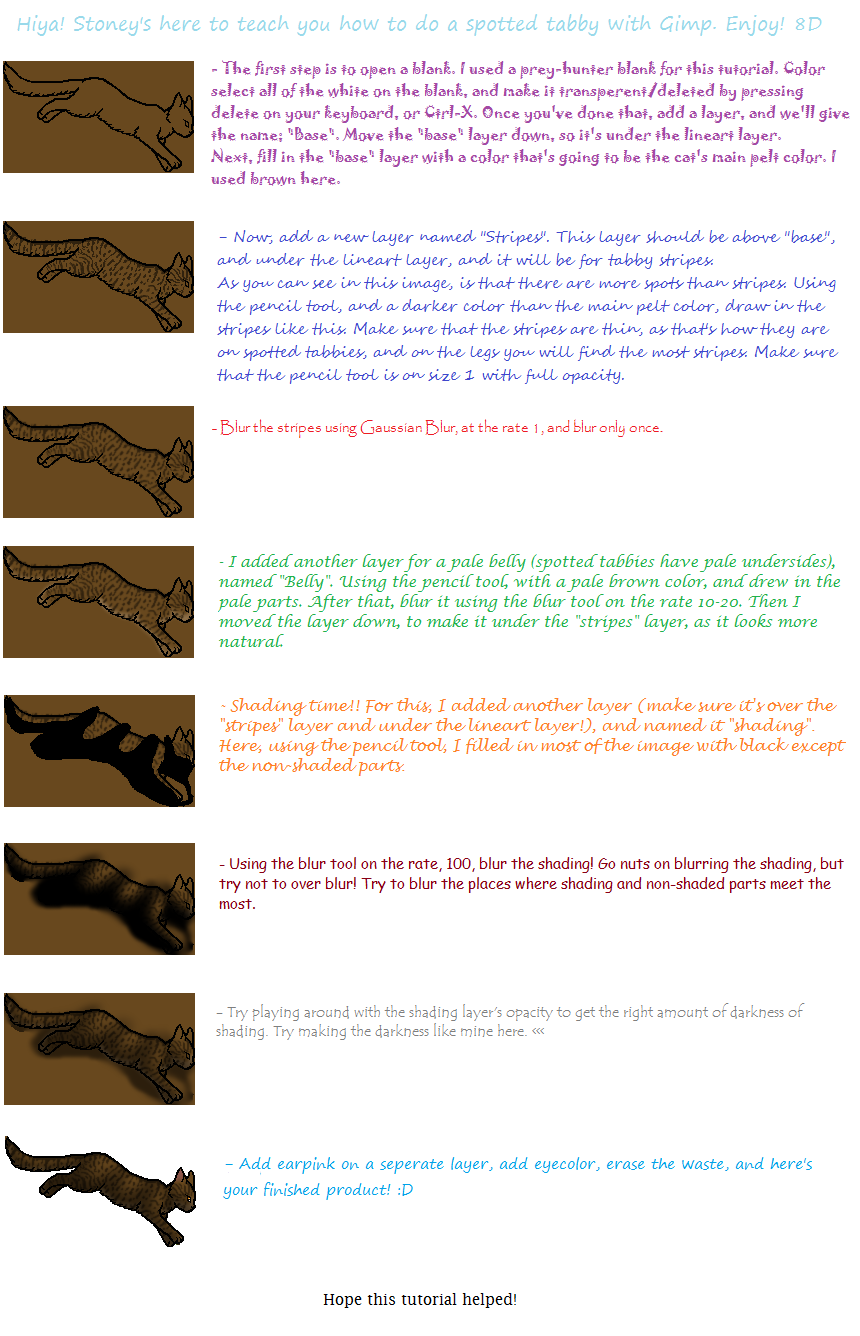 Stoneclaw    07:47, February 18, 2012 (UTC)
Textured Tabbies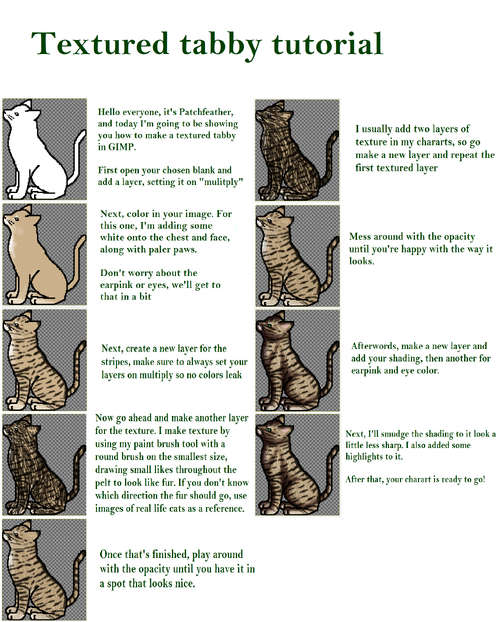 —patchfeather . You're poison running through my veins
Brindled Tortoiseshell
This is a traditional tortoiseshell with brindle patterns.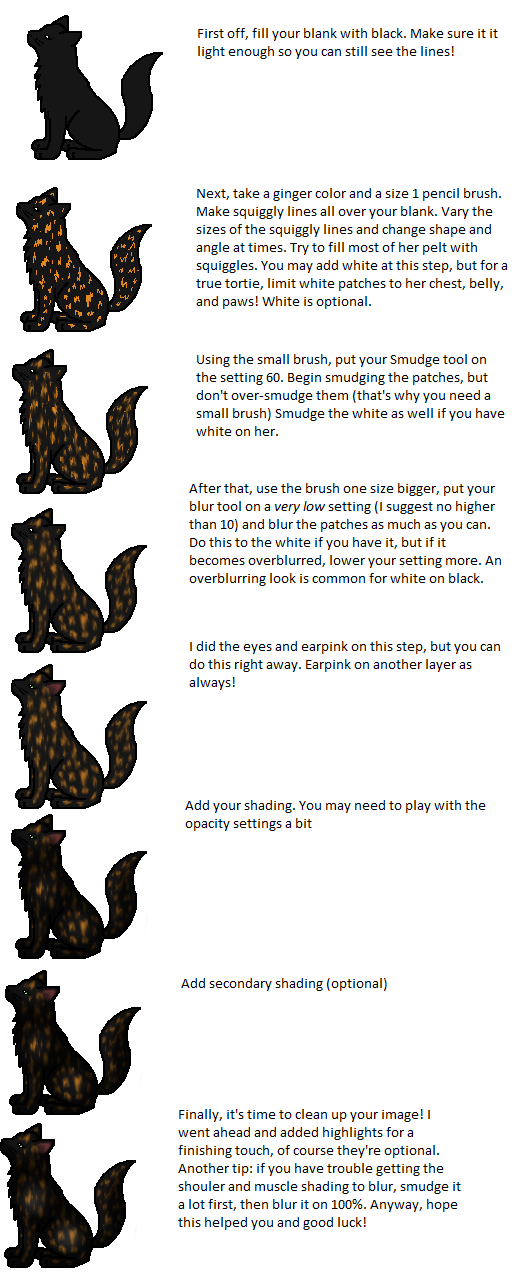 Calicoes
This is a tutorial on Calico cats.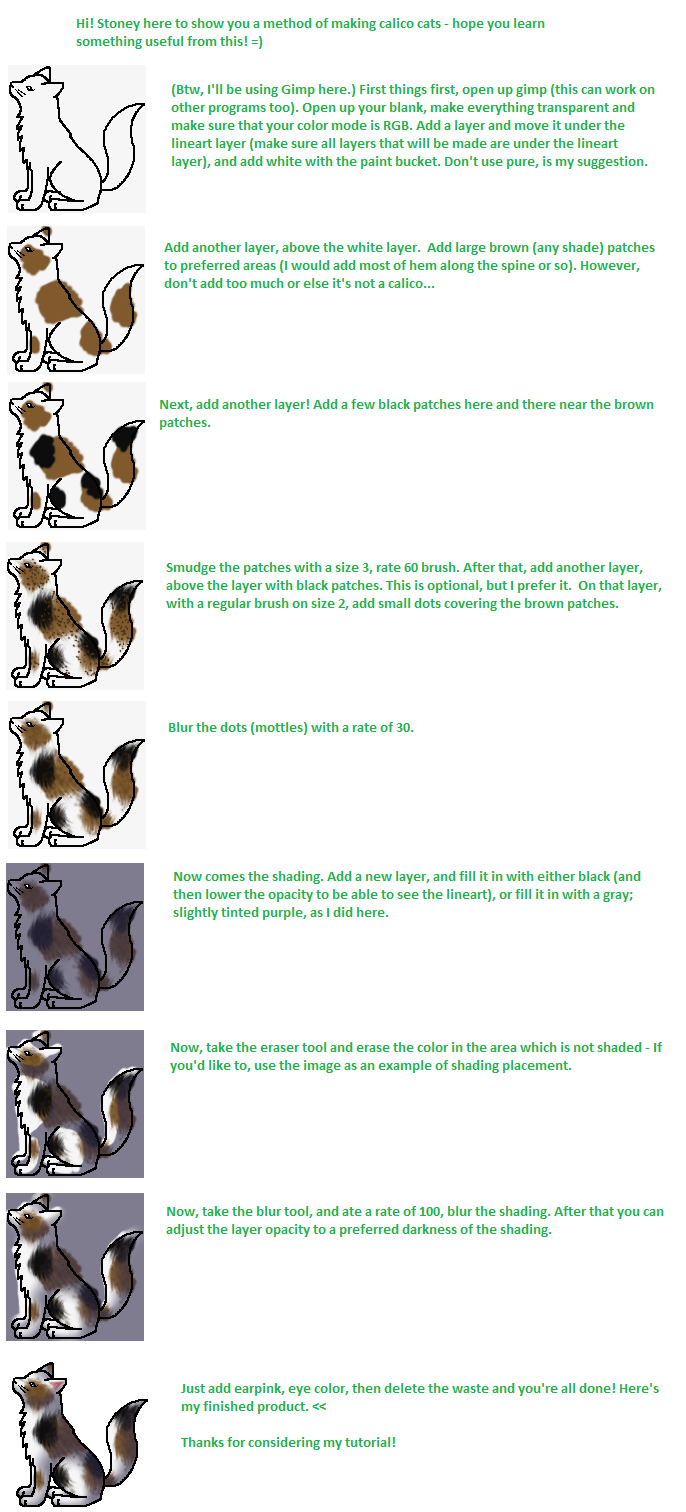 Stoneclaw    06:36, January 22, 2012 (UTC)
Mottled & Flecked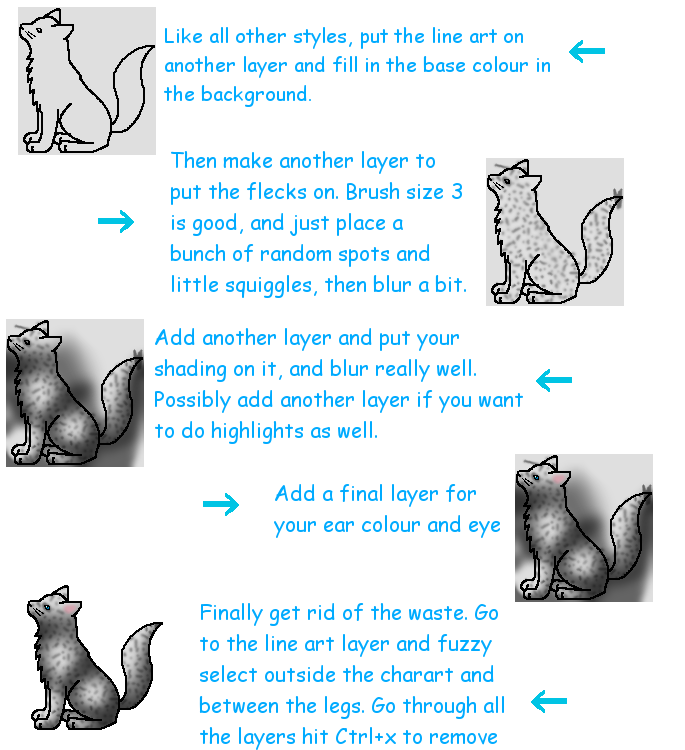 Abnormal Lineart
Here is some ways to change up the lineart to match the character decription better. A few things to make sure of:
Make the new lineart thick
Check the box that says "Hard Edge" when erasing to make sure you get it all
Double check to make sure there's no waste
Chances are this is the only type of lineart change you will need to make. Its simple. Just erase the ears tip and draw in the new gap using true black. Some good examples are Lionheart, Yellowfang and Bluestar.



Another likely lineart change is patchy fur. You can see some examples on Dappletail and Stoneteller, or for really patchy fur, Running Horse Pretty much the same steps as the torn ear.



All lineart changes are basically the same. Erase, redraw, fiddle with it, put it for approval. Easy peasy. Heres some more abnormalities:
Stumpy tails like Halftail and my favorite, Berrynose



Ragged fur like Silverhawk and Raggedstar



Twisted feet like Oddfoot and Cinderpelt



Tuffed ears like Redtail and Tawnyspots



A crooked jaw like Crookedstar


Shading Styles
Normal Shading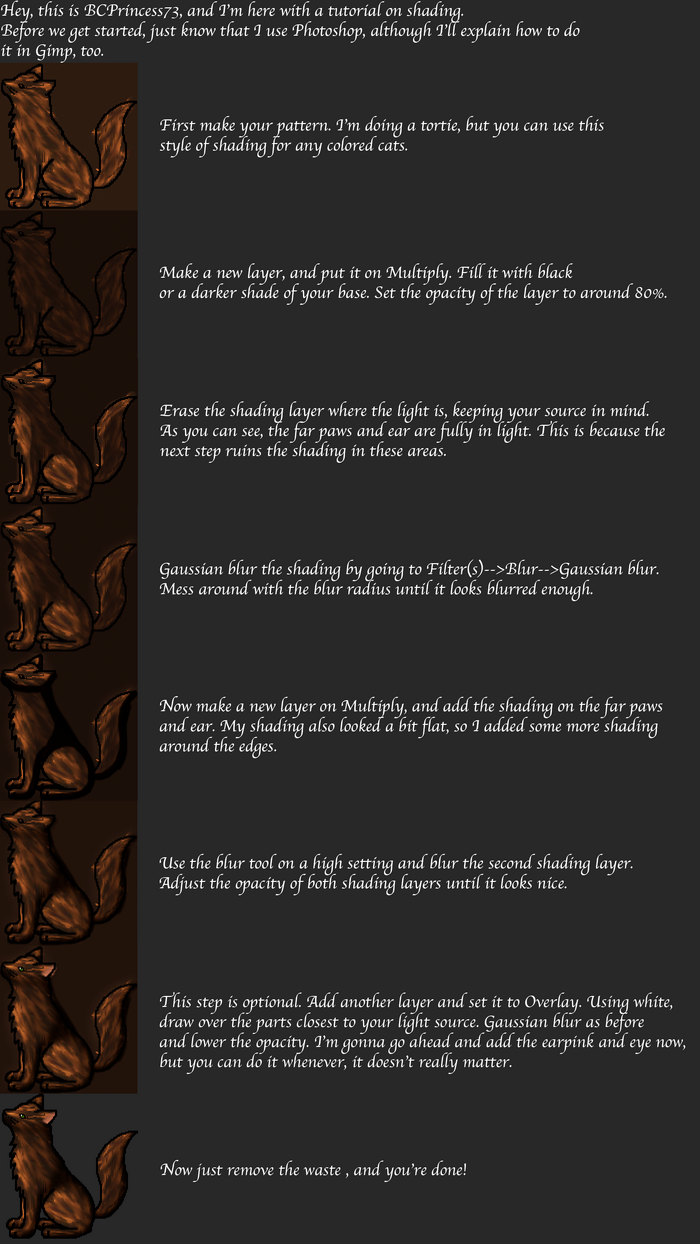 Blurred Shading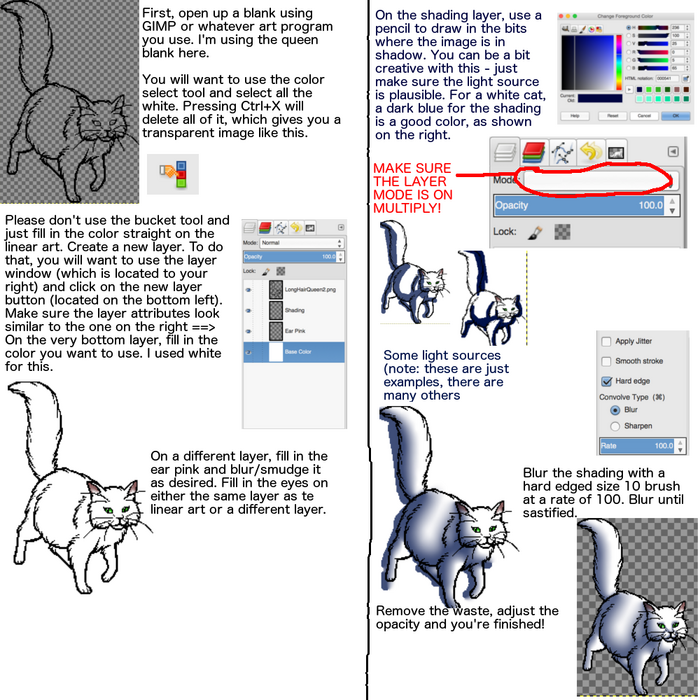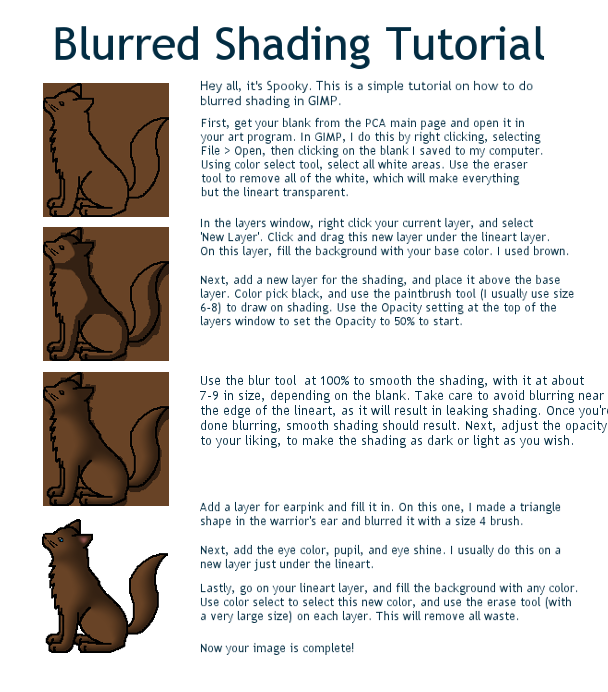 ~ —spooky is that... a furry cat?!? 
Smudged shading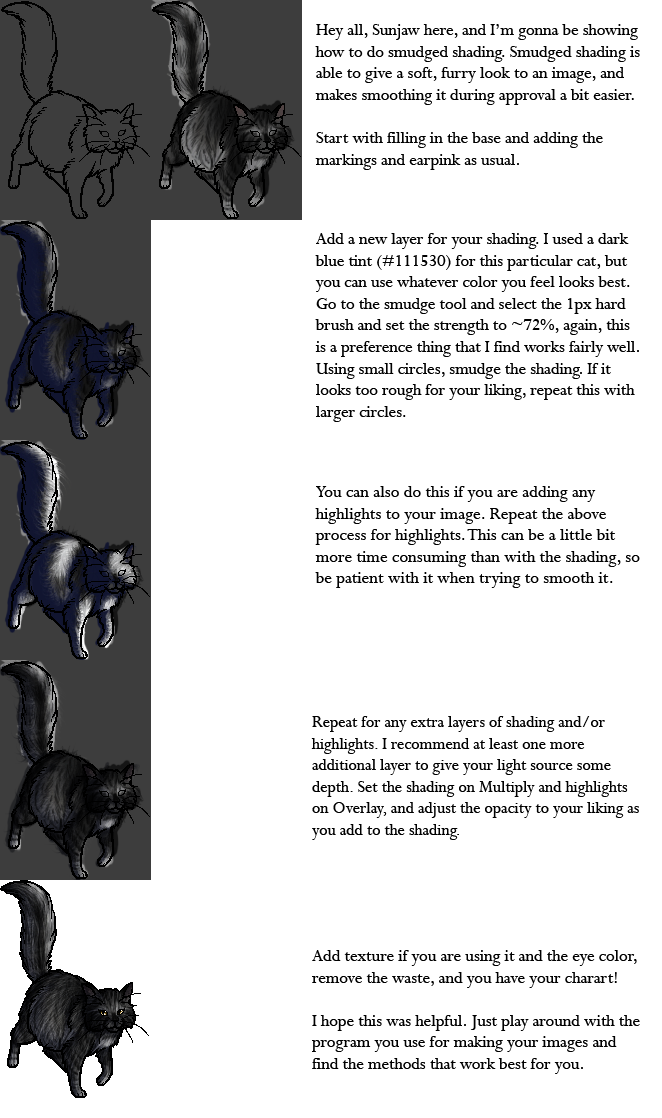 by Sun Man, that man is nonstop♣•
Tinted Shading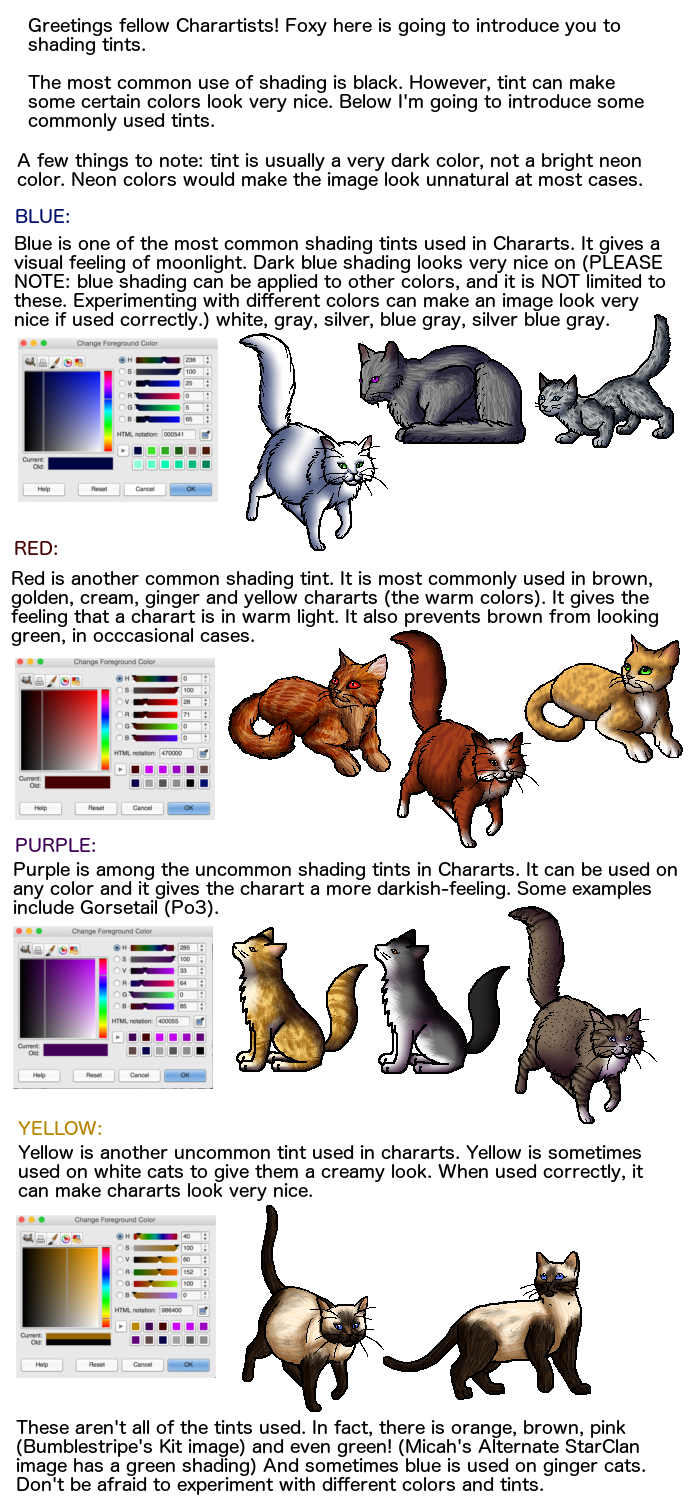 Matching an Image
❄Sorrel It's everything I dreamed
Highlights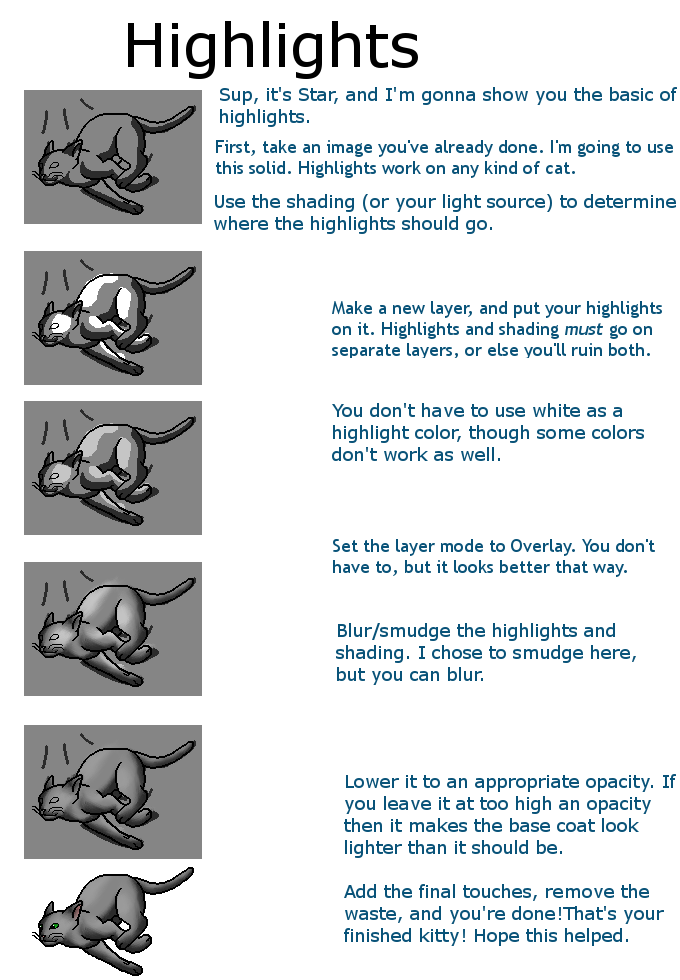 ❄Star❄ show yourself, i'm ready to learn<>
Tweaking
This section is mostly for warriors, though some apprentices may need to use one or two of these for a normal image every once and a while.
Changing Pelt Lengths
Here is how you change the pelt length of cats without having to do a completely new charart pixel (invaluable if you like the original picture a lot, you did the wrong pelt length and don't want to start anew, or for consistency purposes)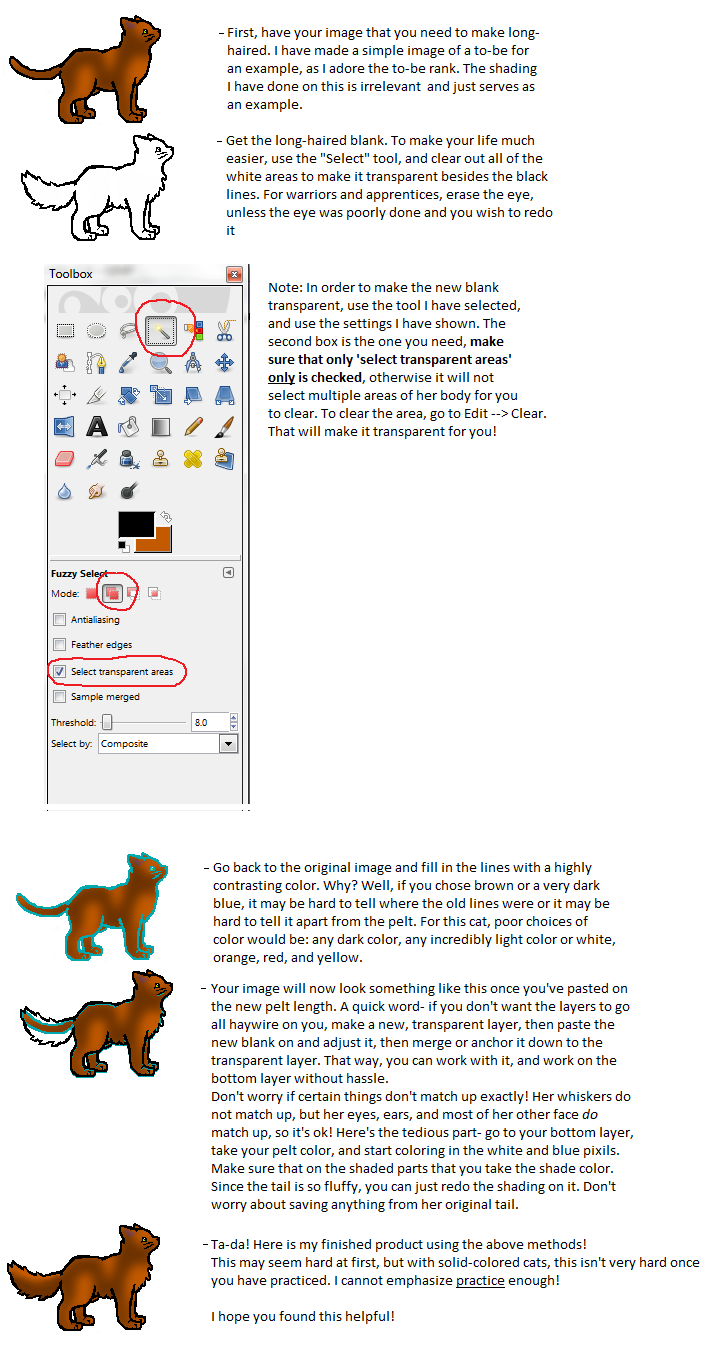 Blurred Lineart
Blurred lineart is something you'll probably run into a lot when you're tweaking. It's actually a lot easier to fix than you'd think. Just follow these steps and you'll be fine. Sorry if it doesn't make sense at some parts, I'm horrible at explaining things.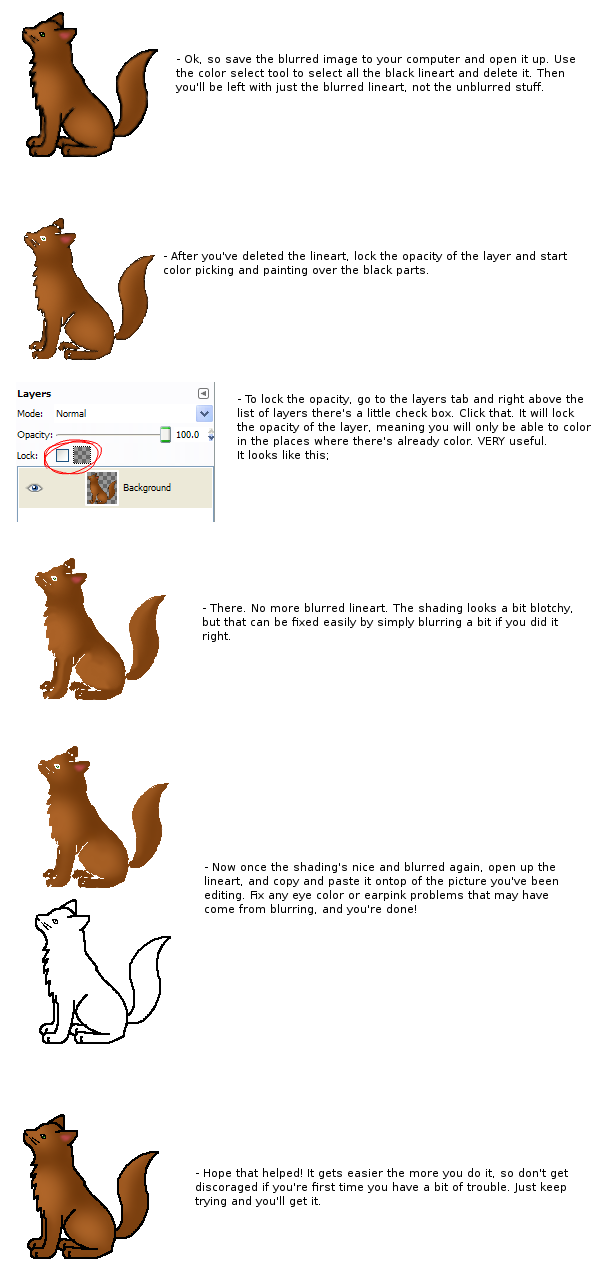 ♔ⓅⓐⓁⓔⒸⓛⒶⓦ♕ ☆StarClan be with you★ 04:42, November 6, 2011 (UTC)
Fixing Light Source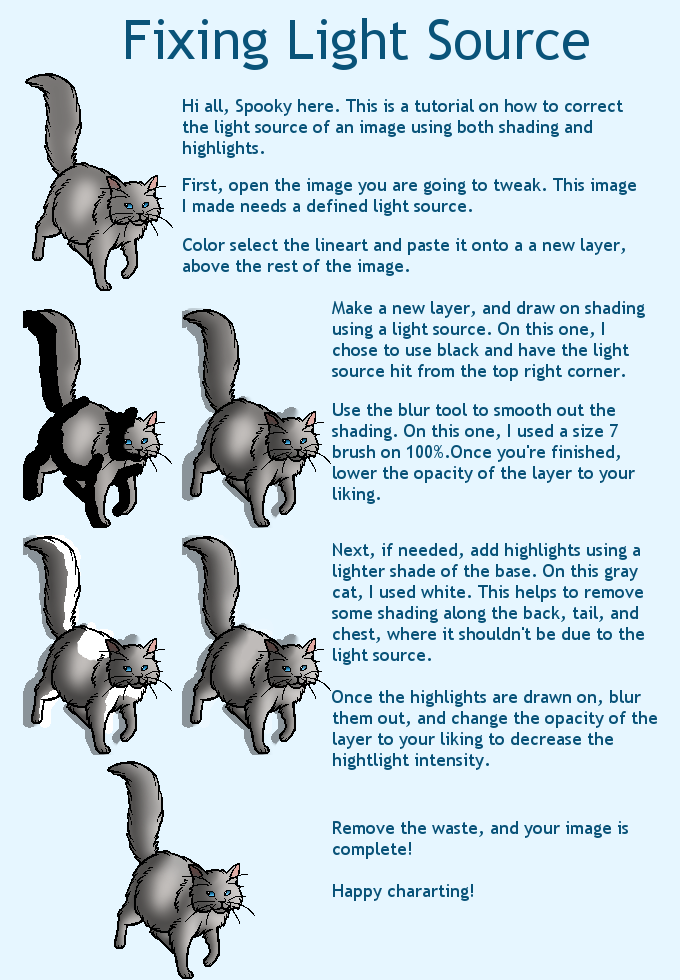 ~ —spooky is that... a furry cat?!? 
Defining Shading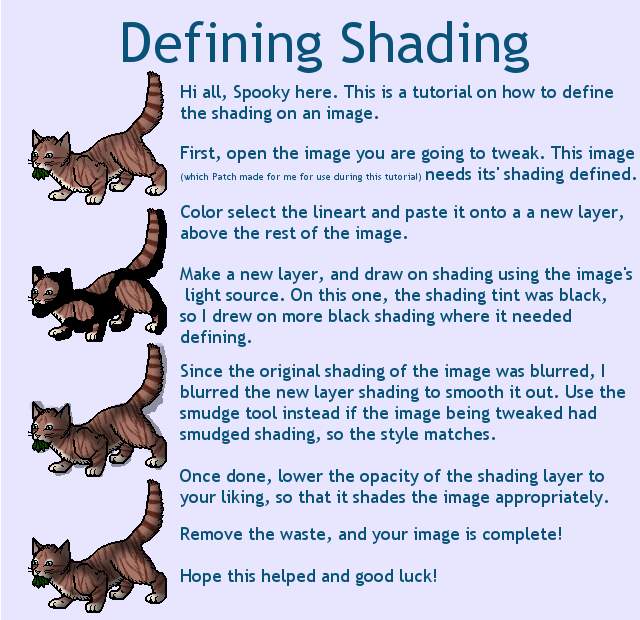 —spooky is that... a furry cat?!? 
Changing Color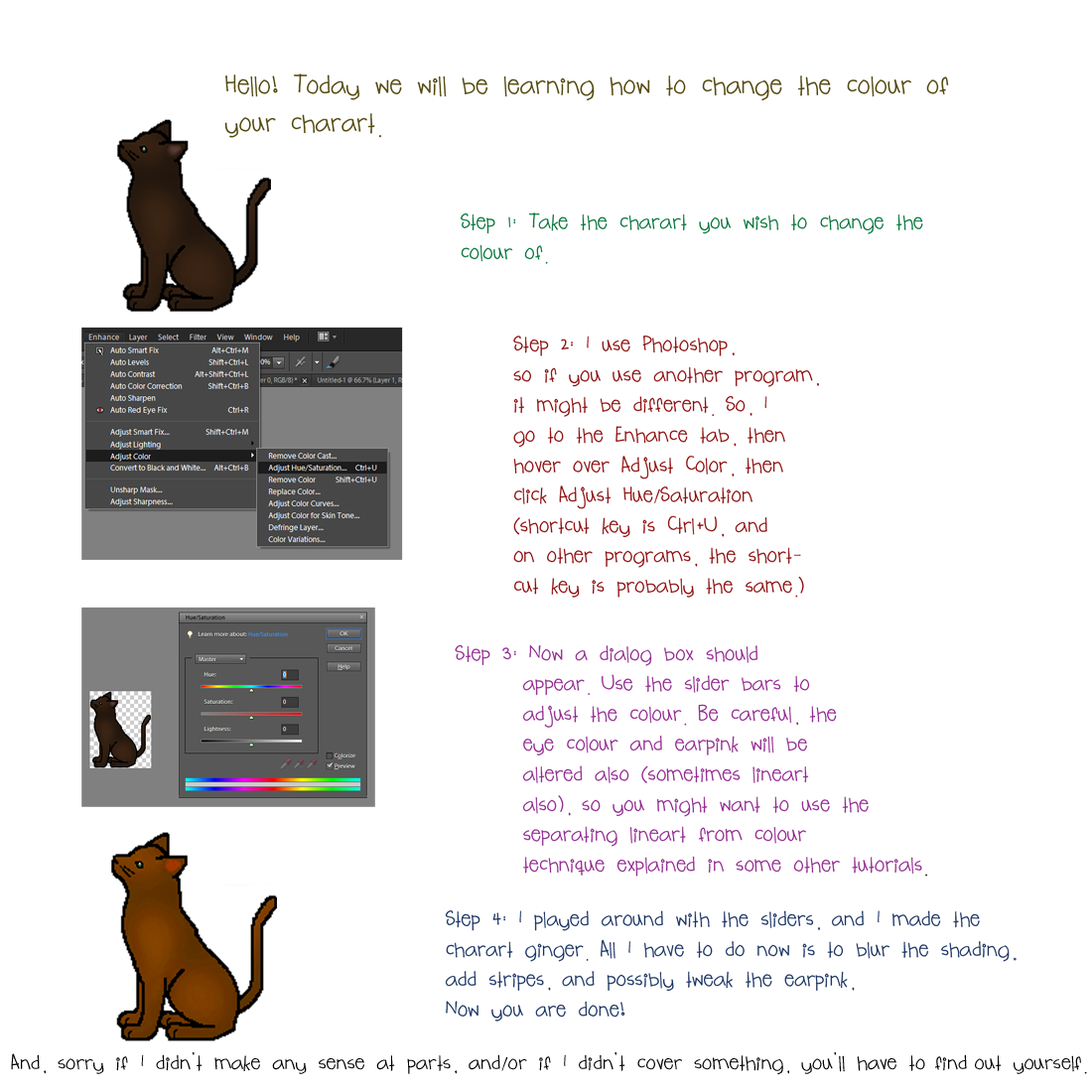 --Leafstrike-- 22:24, December 6, 2011 (UTC)
Adding Stripes
Additional resources
Videos
Here are some videos where you can see how it's done.
Community content is available under
CC-BY-SA
unless otherwise noted.