This is a project discussion page, where a group of dedicated editors may come together and work towards their common goal.
For more information on projects, please see the community portal.
---
This is the Project Character Art Tweaks Page
Place tweaked character art for approval here.
Discussions should be routed to the discussion page, while all New art should be routed to the approval page, and all Tweak nominations should be routed to the nominations page.
---
Chararts needing tweaking are here
Here are some guidelines all users must comply with:
We still follow the same guidelines.
If your image has gone more than 48 hours without comment, you can politely nudge a lead to archive it.
The limit is 25 images for approval at a time.
Even if your image has gone through 24 hours, and someone comments, you still have to fix it.
Discussion
Take it to the discussion page
For Approval
Take it to the approval page
Tweaking
Half Moon (softpaw) - Tweaked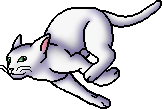 as per nominations page, the source is fine and does not need to be changed. It shows a 3D object, therefore is within the requirements and standards set by PCA. OA is Ivystripe. —Jayce  ( 16:55, 6/02/2020 )
Maybe remove tha shading on the top of the head?-Glacier (13:43, 6/04/2020)
The original source had it, and so do other softpaw images. As I said, I wasn't going to change the source. It still is within the guidelines. —Jayce  ( 15:40, 6/04/2020 )
Community content is available under
CC-BY-SA
unless otherwise noted.