This is the Project Character Art Tweaks Page

Place tweaked character art for approval here.
Discussions should be routed to the discussion page, while all New Art should be routed to the approval page, and all Tweak Nominations should be routed to the nominations page.

This is a Project Discussion page, where a group of dedicated editors may come together and work towards their common goal.
For more information on Projects, please see the Community Portal.

Chararts needing tweaking are here

Here are some guidelines all users must comply with:

We still follow the same guidelines.
If your image has gone more than 48 hours without comment, you can politely nudge a senior member to archive it.
The limit is 25 images for approval at a time.
Even if your image has gone through 24 hours, and someone comments, you still have to fix it.

If you have any ideas that can help this page flow smoother, let us know.
Discussion
Take it to the discussion page
For Approval
Take it to the approval page
Tweaking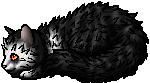 I totally ruined it. >< OA is Nightshine, Redone artist is Ivystripe and tweakers are Ashshadow and me. Tweaked tom match description. Many credit and thanks to Burntclaw for sending in the apprentice file, and that made my life much easier. :) Stealthf🔥re ❤Warriors Forever!❤ 08:53, October 2, 2015 (UTC)
Smudge the white - Fox 僕たちはひとつの光 08:56, October 2, 2015 (UTC)
K so I smudged my white patches with a 10 px bristle brush and i did not smudge or blur the texture- i used a paint brush and added dark and light tones to show the light hitting the fur and the shadows to give his fur a "bristling" effect. Nice image, anyway =) User:Burntclaw/Sig 09:09, October 2, 2015 (UTC)
Also define the texture on the white please. User:Burntclaw/Sig 09:12, October 2, 2015 (UTC)
why does he have white paws? hes only speicifed white and grey on his face and shoulders. david 🌈 11:03, October 2, 2015 (UTC)
nvm, cite got found david 🌈 12:06, October 2, 2015 (UTC)
Reupload Stealthf🔥re ❤Warriors Forever!❤ 22:53, October 2, 2015 (UTC)
He looks like hes still mottled, is that intentional? User:Winterflurry/Sig 22:57, October 2, 2015 (UTC)
That's texture. There is tabby stripes I promise, it's just harder to see because it's a tiny image.Stealthf🔥re ❤Warriors Forever!❤ 23:01, October 2, 2015 (UTC)
Smudge the white more please, with a hard edged one px brush - Fox 僕たちはひとつの光 01:52, October 3, 2015 (UTC)
Reupload If I have to turn the internet upside down to get a better smudge tool ><Stealthf🔥re ❤Warriors Forever!❤ 07:21, October 3, 2015 (UTC)
Ok I'm going to be that person but I still seriously think you should smudge the white more ;; - Fox 僕たちはひとつの光 13:13,10/3/2015 13:13, October 3, 2015 (UTC)
The texture on his face isn't texture; it's little triangles that just throw the colour off...also, could you add a bit of depth to the shading? It's looking a bit flat. ★ Berry ★ Midnight Monster's Parade! 13:15 Sat Oct 3
Reupload I'm being careful with the shading as the texture and stripes disappear when it gets too dark, and I'm near the brink. Everyone's fluffing up their Thistleclaw a lot! Do I need to fluff Thistlekit?Stealthf🔥re ❤Warriors Forever!❤ 20:18, October 3, 2015 (UTC)
His other images appear to have a small bit of black near the eyes- do you mind adding that? The warrior and dark forest images show what I'm insinuating. ~☯ Breeze Five Nights at Freddys 21:27, October 3, 2015 (UTC)
Reupload Don't tell me to smudge it anymore, cause I did before and it somehow disappeared O.o.Stealthf🔥re ❤Warriors Forever!❤ 21:49, October 3, 2015 (UTC)
White looks gray on the paws - Fox 僕たちはひとつの光 23:57,10/3/2015 23:57, October 3, 2015 (UTC)
Reupload Stealthf🔥re ❤Warriors Forever!❤ 00:03, October 4, 2015 (UTC)
I still think it looks gray to me, tbh. Try erasing some shading on them - Fox 僕たちはひとつの光 01:01,10/5/2015 01:01, October 5, 2015 (UTC)
Reupload White against dark is a pain ><Stealthf🔥re ❤Warriors Forever!❤ 05:42, October 5, 2015 (UTC)
i don't know why but the texture makes him look mottled... - Fox 僕たちはひとつの光 07:29,10/6/2015 07:29, October 6, 2015 (UTC)
Define the light on the two front paws. – Ivy ☆ 20:36, October 6, 2015 (UTC)
Reupload I've lowered the opacity of the texture to help see the stripes and smudged them. I completely forgot about the paws so I'll do that in the next upload.Stealthf🔥re ❤Warriors Forever!❤ 21:01, October 6, 2015 (UTC)
Could you make him look more spiky, like on the apprentice and warrior? - Fox 僕たちはひとつの光 01:05,10/7/2015 01:05, October 7, 2015 (UTC)
Reupload spike! spiiiiiiiiike! That's a fun word.Stealthf🔥re ❤Warriors Forever!❤ 07:30, October 7, 2015 (UTC)
fluff up his left side of the cheek, it looks oddly unbalanced. User:Burntclaw/Sig 11:40, October 7, 2015 (UTC)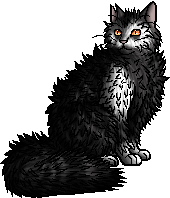 oa's include bramble, mintstarr, shelly, silver, and jayce who was awesome enough to give me this and upload for me ;-; ★ Berry ★ Midnight Monster's Parade! 11:06 Fri Oct 2
This should use the old linear art- it wasn't nominated for a linear tweak. Very pretty btw, maybe try erasing a little bit of the texture on the edge of the paws and the face so that it would look less grey. User:Burntclaw/Sig 11:36, October 2, 2015 (UTC)
Jayce told me they didn't mind me using new lineart; I'll change it if you want it, but... ★ Berry ★ Midnight Monster's Parade! 12:19 Fri Oct 2
idk but I was told to do it in the past... So... User:Burntclaw/Sig 12:20, October 2, 2015 (UTC)
I literally don't care either way. Given that it's explicitly stated he was named after his spiky fur, I think the more spikyness, the better. I was going to say that on the other images, but the apprentice was archived before I got the chance. —Jayce  ( 12:25, 10/2/2015 )
Should I nominate the apprentice? User:Burntclaw/Sig 12:26, October 2, 2015 (UTC)
If you believe it should be, yes. I mean, given that ragged fur can change over time, I don't think you'd need to 30000% match Berry's style, but he could use more spiky fur. Anyways, Berry, could you define the ear pink? I actually didn't think he had any the first time I saw this. —Jayce  ( 12:30, 10/2/2015 )
Blur/smudge the shading a bit? bcprincess a giant woman 16:04, October 3, 2015 (UTC)
I think the shading is fine, personally. Smooth out that white patch on his cheek, it looks a little too sharp compared to the other patches. Jayie Unwritten words~ 18:30, October 3, 2015 (UTC)
White looks gray on the face - Fox 僕たちはひとつの光 01:01,10/5/2015 01:01, October 5, 2015 (UTC)
its fine, you can tell its white. david 🌈 10:05, October 5, 2015 (UTC)
Reuploaded ty jayce ★ Berry ★ Midnight Monster's Parade! 12:56 Tue Oct 6

 Second try, tweaked to define shading Cheryl You're so Gorgeous ❤ ~06:00,10/3/2015
Can you smooth out the shading just a tad? It just looks a little hard-edged. – Ivy ☆ 00:44, October 4, 2015 (UTC)
re-ups I did my best Cheryl You're so Gorgeous ❤ ~09:28,10/7/2015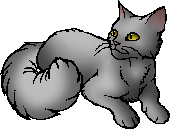 OA was Breeze, tweaked for define and redo shading User:Winterflurry/Sig 20:35, October 3, 2015 (UTC)
I know shading darkness is artist's choice, but right now it looks too dark. can you please lighten it, and smooth it out on teh chest area? And define the facial shading and the paws. Appledash the light of honor 17:02, October 4, 2015 (UTC)
Reups User:Winterflurry/Sig 17:17, October 4, 2015 (UTC)
Still a little too dark. Also the facial shading needs to be defined some moer, and can you blur/smooth that little light spot on his chest? And smooth out the farthest paw? (I absolutely suck at explaining. Someone teach me how to.) Appledash the light of honor 17:22, October 4, 2015 (UTC)
reups? User:Winterflurry/Sig 17:33, October 4, 2015 (UTC)
Smooth out the shading a lot more. —Jayce  ( 05:11, 10/5/2015 )
Reups User:Winterflurry/Sig 00:21, October 7, 2015 (UTC)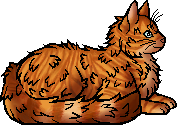 OA is me. Redone to match. I couldn't sum up to Shinx's awesome skills... :( ☽➸ Hawky Void Shadowshot21:51 Sat Oct 3
I'll add the rheumy eyes and he ragged fur in my next upload. Oops. ☽➸ Hawky Void Shadowshot21:53 Sat Oct 3
Don't forget the cloudy eyes! :) The colour doesn't seem to match the other images. His a bit orange-r than the others. (Is that even a word? Orange-r?)Stealthf🔥re ❤Warriors Forever!❤ 22:00, October 3, 2015 (UTC)
Did you add the layer of texture? There's a very light one on the apprentice, I'm not sure if you added it or not. This looks gorgeous. :) The color is fine, I think. I sent Hawky the file, the colors will probably be colorpicked fro that. I use highlights on my images, which makes them look a bit brighter. Shinxy used Thunderbolt! 22:10, October 3, 2015 (UTC)
Smooth out the shading User:Winterflurry/Sig 01:17, October 4, 2015 (UTC)
The shading's fine. Appledash the light of honor 01:23, October 4, 2015 (UTC)
Yes, Shinx. I used texture. I made sure you could barely see it, because you can barely see it on the apprentice. ☽➸ Hawky Void Shadowshot3:03 Sun Oct 4
No, it's really not @Apple. Please smooth it out some more on the legs User:Winterflurry/Sig 03:04, October 4, 2015 (UTC)
In my opinion it is. Literally it looks blurred as it is but if someone else disagrees then I guess. Appledash the light of honor 03:05, October 4, 2015 (UTC)
The shading is fine, tbh. User:Burntclaw/Sig 03:06, October 4, 2015 (UTC)
Re-uploaded. Also I did color pick off of the apprentice .xcf ☽➸ Hawky Void Shadowshot3:14 Sun Oct 4
Blur the shading on the earpink? This is beautiful. Appledash the light of honor 22:34, October 4, 2015 (UTC)
Mist (Lo) ~ Tweaked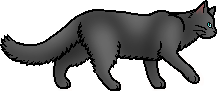 OA is DJAngelCandy. Tweaked for flat shading. bcprincess a giant woman 00:50, October 4, 2015 (UTC)
Could you possibly define the light on the legs? ❄Sorrel It's everything I dreamed 02:01, October 4, 2015 (UTC)
Reuploaded bcprincess a giant woman 17:57, October 4, 2015 (UTC)
Define the light on the legs farthest from us a bit more pls User:Winterflurry/Sig 19:56, October 5, 2015 (UTC)
Reuploaded How's that? bcprincess a giant woman 15:48, October 6, 2015 (UTC)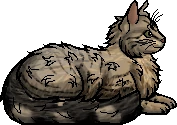 OA is Hawky with a tweak by Leafstrike. —Jayce  ( 12:08, 10/6/2015 )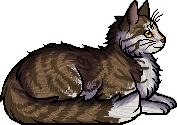 OA's were Canyonsong, Minstarr, and Iveh, tweaked to remove ginger. Thanks again for the file, Iveh! User:Winterflurry/Sig 12:32, October 6, 2015 (UTC)
If possible, could you make her look less green and define the shading? - Fox 僕たちはひとつの光 23:18,10/6/2015 23:18, October 6, 2015 (UTC)
Reups Hopefully this looks better. Redid the shading while still keeping it along the same shading style as Iveh's. Switched the colors around a little bit User:Winterflurry/Sig 00:20, October 7, 2015 (UTC)
She actually seems like a triangular tabby to me... idk - Fox 僕たちはひとつの光 05:21,10/7/2015 05:21, October 7, 2015 (UTC)
This is not a triangular tabby. A triangular tabby has repeating distinct triangles. This has no triangles. We are not bringing this back again. .-. ★ Berry ★ Midnight Monster's Parade! 05:26 Wed Oct 7
For an examples, here is Oatwhisker (WC) before I redid him ages ago. See the repeating, sort of rippling triangles? That is triangular tabby. That is not realistic. Birdsong is fine. ★ Berry ★ Midnight Monster's Parade! 05:29 Wed Oct 7
She looks green, regardless. Also, people can have their own opinion. The image you provided is not triangular, it's just unrealistic. User:Burntclaw/Sig 05:37, October 7, 2015 (UTC)
What was wrong with the opacity of the previous version's stripes? This was nominated to remove the ginger, and Ivy's shading did not need to be redone. It could have been tweaked very easily. —Jayce  ( 05:47, 10/7/2015 )
She doesnt look green to me. Tbh i think the color previously looked too green, pelt color and stripes Storm♫ 12:21, October 7, 2015 (UTC)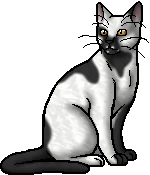 Ugh. He looks super gray and I will fix that. OA is scarlet. If she wants this I will indeed surrender it. Tweaked to define shading and I also changed the color of the earpink so it would look better with the gray + white patches. Appledash the light of honor 21:40, October 6, 2015 (UTC)
I guess go ahead and add some highlights to fix the gray problem - Fox 僕たちはひとつの光 23:17,10/6/2015 23:17, October 6, 2015 (UTC)
Re-uploaded: Ugh. Appledash the light of honor 23:26, October 6, 2015 (UTC)
Try doubling the highlight layer on an overlay layer mode. It still looks grey. User:Burntclaw/Sig 01:51, October 7, 2015 (UTC)
There's also a white pixel on the ear. I know it's nitpicky, and not necessary, but you can fix it if you want. Splook sweet  creature 03:31 Wed Oct 7
Re-uploaded: is this better? Appledash the light of honor 03:33, October 7, 2015 (UTC)
Still looks gray on the haunch - Fox 僕たちはひとつの光 05:20,10/7/2015 05:20, October 7, 2015 (UTC)
Firestar (Star) - Tweaked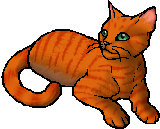 OA = me, Raelic, Bbun. User:Burntclaw/Sig 02:35, October 7, 2015 (UTC)
Aren't you suppoed to mention all the oa's...? Also, there's this little patch of bright pink in the middle of the ear. Can you fix that? Appledash the light of honor 02:40, October 7, 2015 (UTC)
Re-uploaded This tweaked image is the redone image, which is a completely different image from the original and only has one OA. I'm not entirely sure if I got what you meant, but if I didn't feel free to give an indication. User:Burntclaw/Sig 03:21, October 7, 2015 (UTC)
You're supposed to mention everyone, even if you redid it and you're tweaking it. Breezey is technically the OA, and then you redid it. —Jayce  ( 05:45, 10/7/2015 )
File:Gorsetail (P3).queen.png idk whats shading david 🌈 05:09, October 7, 2015 (UTC)
Make her mottled. Define the shading depth everywhere. User:Burntclaw/Sig 05:19, October 7, 2015 (UTC)
she looks literally pure white tbh - Fox 僕たちはひとつの光 05:32,10/7/2015 05:32, October 7, 2015 (UTC)
im not darkening it any more....shes very pale grey qand white. its supposed to be hard to see. not to mention mottles will probably make her look darker anyway when i get to them. david 🌈 05:40, October 7, 2015 (UTC)
reuploaded theres the mottles. david 🌈 05:54, October 7, 2015 (UTC)
I agree with Foxy... It does look pure white. Willowpelt is very pale gray too and she's hardly white at all. Define earpink a tad? Cheryl You're so Gorgeous ❤ ~09:24,10/7/2015
....she's white and pale grey. The white is supposed to be white...?? ★ Berry ★ Midnight Monster's Parade! 09:37 Wed Oct 7
No I mean those under the stripes. Forget what I said, my screen was on a very weird brightness just now so things weren't showing up correctly. Cheryl You're so Gorgeous ❤ ~09:45,10/7/2015
Nvm about my comment about the pure white, just at first glance I thought she was a white pointed tabby. Sorry. - Fox 僕たちはひとつの光 09:55,10/7/2015 09:55, October 7, 2015 (UTC)
The green shading is kinda throwing off the color, could you fix that? Appledash the light of honor 11:30, October 7, 2015 (UTC)